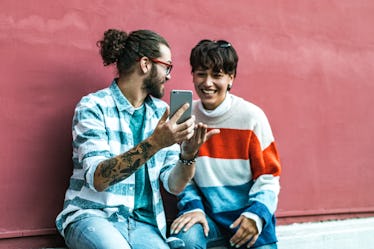 10 Low-Key Surprise Birthday Party Ideas For The Pisces In Your Life
blackCAT/E+/Getty Images
If you've ever planned a surprise birthday party before, then you know it can require some serious organizational and secret-keeping skills. In the weeks leading up to the big day, you have to coordinate reservations and decorations. These surprise birthday party ideas for Pisces don't require that same hustle, though. They're low-key and lovely at their core, matching the personality traits of your partner, BFF, or co-worker who you're celebrating this season.
Let's talk a little about what makes a Pisces, shall we? Typically, a person with this zodiac sign may be the chillest one in the group. They'll sit there for hours listening to your drama, stories, or passions, and give you the best advice on how to conquer your dreams. They're also the first one to say "I'm going to head home" during a night out, because they love relaxing in a space that's well-known and their own. On the weekends, you might find them catching up on their favorite Netflix shows and making coffee in their kitchen, or hanging out in sweatpants and listening to music.
They're one of the most casual zodiac signs in the night sky, which is why a low-key party is a perfect fit for them. Here are 10 ideas to get you started on celebrating the Pisces in your life.