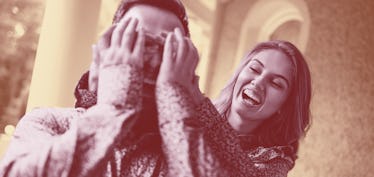 10 Romantic Ways To Propose To Your SO At Home & Put A Ring On It
Shanelle Infante, Elite Daily
If you've ever watched a sitcom like Friends or New Girl, then you know some of the most romantic moments can happen right at home. Monica and Chandler proved the perfect engagement can go down right in your apartment, and Schmidt and Cece are a prime example for how you can eventually say "I do" in your living room, too. It's not always #necessary to get down on one knee while on a trip. These romantic ways to propose to your SO at home will leave you with happy tears and massive smiles just the same.
They'll also leave you with the sweet story to tell your close friends and family members, and maybe even your kids one day. You'll adore having your people gathered around on a FaceTime or Zoom call right after, or the next day, and recounting the details of the breakfast surprise or the lengths you had to go through to make sure your SO didn't see the wall you painted with, "Will you marry me?" The story can even come with a few pictures you took with your self-timer or a video that you captured, thanks to a sneakily hidden tripod.
Every time you walk past that spot in your home where you heard your SO say "yes," you'll catch a glimpse of the moment in your mind. That may be one of the greatest perks of proposing at home and in the space you've created together. Here are 10 romantic ways to put a ring on it in your kitchen, backyard, or bedroom.