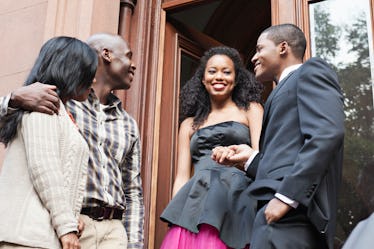 These #PromDIY Videos On TikTok Are Inspo For Your At-Home Celebration
Sonja Pacho/The Image Bank/Getty Images
The coronavirus pandemic has many people celebrating major events at home, including prom. Since social distancing came into effect, and any large gatherings of people were quickly postponed or cancelled, many high schoolers across the country have decided to make the most of the unprecedented situation and celebrate in a unique way. The result? #PromDIY videos on TikTok that are total inspo for an at-home celebration of your own.
The moment you hit "play" on one of these videos, you'll want to pull out your half-altered prom dress, your makeup palette, or a pack of balloons and turn your house into a #lit venue. You may even want to make "save the date" cards with a program on your iPad or laptop so your family can be a part of your big night, too, virtually. In the true spirit of prom, you should for sure fashion a backdrop in your house where you can take selfies with a ton of twinkly lights, or grab flowers from your garden for a corsage.
If you really want to take your at-home celebration to the next level, you may want to whip out a sewing machine or gourmet recipe book as well. All the inspo lies in these 10 #PromDIY videos, and many more, on one of your fave apps.