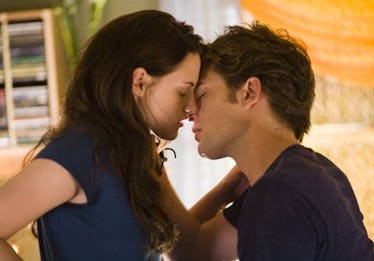 These Are The 10 Best First-Kiss Movie Scenes That Brought Romance To Life
Summit Entertainment
Seriously, is there anything more satisfying than watching the tension built between two characters who are clearly meant for each other, and then finally witnessing the sparks fly as they share their first kiss? I think not. It's the moment where these characters take a risk, their true chemistry is tested, and they take their connection to a completely new level. Many of the most iconic first kiss movie scenes are the ones that you relate to. They're a little bit awkward or hesitant, and that's what makes them charming. But very often, it's those over-the-top (perhaps unrealistic) silver screen smooches that make an impression. Maybe you even fantasize about living them out yourself (#nojudgementzone).
These memorable movie kisses can range so much in context, tone, and style. Sometimes, it's a slow, sweet single liplock that sticks in your mind (see: P.S. I Love You). Or, it could be a lengthy makeout sesh oozing with passion that takes your breath away (case in point: The Notebook). Regardless, there's something about that first kiss that makes your heart go pitter-patter.
Your real-life smooches may not always measure up to what you see in the movies. But that doesn't mean you can't live vicariously through these characters' romantic experiences. Whether it's between two characters who initially hated each other, a couple of unlikely lovers, or long-time best friends, these on-screen kisses are sure to leave you swooning.