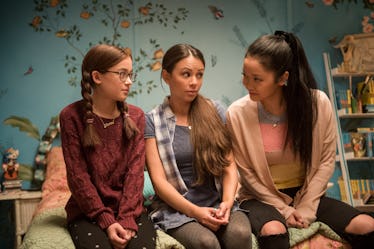 You & Your Sis Can Relate To These 8 Scenes From 'To All The Boys I've Loved Before'
If you've seen Netflix's To All The Boys I've Loved Before (or like me, who has seen it literally 500 times), I'm sure you're totally shipping Lara Jean and Peter Kavinsky. Though, if you have sisters, the real relationship that hit you right in the feels was between the three Covey sisters. Through the love letter mayhem that ensues, these sisters were always there for each other, and if you have a sis of your own, there were more than a few scenes from To All The Boys I've Loved Before that you could totally relate to.
In the Covey household, you have Lara Jean. She's the middle child who's obsessed with romance novels and writing love letters. Then, there's Margot, the very mature older sister who heads off to college. Kitty is probably my favorite, because she was the funniest of the three. The little sis of the fam, Kitty is spunky and does her own thing. Whenever I re-watch the movie, I can totally see how the relationship between these sisters is similar to the one I have with my own. You may have also felt that way if you have a sister, and it was these eight scenes from the movie that made you smile.