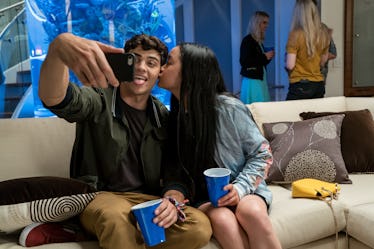 18 Cute Quotes From 'To All The Boys I've Loved Before' For Insta Pics With Bae
Netflix
If you've seen Netflix's rom-com To All the Boys I've Loved Before, you know there's no denying that Lara Jean and Peter Kavinsky are couple goals. Now that the final movie in the trilogy, To All the Boys: Always and Forever, Lara Jean, has a release date of Feb. 12, 2021, it's a great time to look back on the film that started it all. You might even want to use some adorable quotes from To All The Boys I've Loved Before for your Instagram pics of yourself and the Peter K to your Lara Jean.
In the first movie, you were introduced to hopeless romantic Lara Jean who you may have related to right away with her love letters and romance novels. Even if she never sent out the letters herself, she always knew just what to say in them about love and relationships. Let's not forget Peter Kavinsky who also knew just what to say to get Lara Jean's heart fluttering. You might be sad to see the series coming to a close, but you'll always have the movies to rewatch on Netflix. You may have even seen them so many times by now that you can quote every line in every scene. That means you'll really love using these To All the Boys I've Loved Before quotes on Instagram. Now is the time to put these great lines into action.
Lara Jean was hesitant to post about her fake relationship on Instagram, but you might be all about showing off your partner on the 'gram. The next time you want to post a cute selfie sharing a milkshake or hanging out in a hot tub together, use any of these 18 quotes from To All the Boys I've Loved Before as your caption.
1. "But really, I guess it was mainly about how sometimes, I imagined what it would have been like if I'd realized how I felt about him sooner." — Lara Jean
2. "You can put your hand in my back pocket." — Lara Jean
3. "There's no one like you, Covey." — Peter Kavinsky
4. "It was real in a different way." — Lara Jean
5. "It's so cool how we can talk to each other about real stuff." — Peter Kavinsky
6. "You still think you haven't gotten a love letter?" — Josh Sanderson
7. "I need you to know that I like you." — Lara Jean
8. "You were never second best." — Peter Kavinsky
9. "Can you maybe just admit that some part of you doesn't want everything in your life to be a fantasy?" — Margot
10. "I was lying to every person, and I knew I couldn't lie to you." — Lara Jean
11. "You gonna break my heart, Covey?" — Peter Kavinsky
12. "I'd always fantasized about falling in love in a field, but I just never thought it'd be the kind where you played lacrosse." — Lara Jean
13. "You were the first boy I ever really liked." — Lara Jean
14. "If this wasn't what he wanted, then why did he come to the field of desire?" — Lara Jean
15. "He was my first boyfriend. Well, space between the words, boy who was a friend." — Lara Jean
16. "And so, I wrote him a letter. I wasn't going to send the letter, it was just for me to understand how I was feeling." — Lara Jean
17. "Let's do this." — Lara Jean
18. "It's actually really nice having someone to talk to about this stuff." — Lara Jean
This article was originally published on