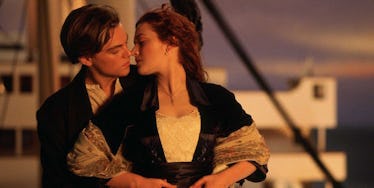 These Are The 25 Best Movie Kisses Of All Time
20th Century Fox
Anyone who says he or she is not watching the MTV Movie Awards just to see who wins Best Kiss is a big, fat liar.
Ever since Rachel McAdams and Ryan Gosling's glorious kiss after winning in 2005, I know we all wait anxiously, year after year, hoping that same magic will grace the stage yet again.
Honestly, some years I turn off the show after Best Kiss is presented because, like, what's the point?
However, seeing our favorite on-screen kisses reenacted in real time is still only almost as good as they were in the movies. So without further ado, let me give you the best of the real (well, fictional) things. Below are the top 25 movie kisses of all time, and check out the 2016 MTV Movie Awards to find out what on-screen kiss wins this year.
25. "Clueless"
*When you realize Paul Rudd is THE DREAMIEST MAN ALIVE and somehow feel OK about the minor incest going on here*
24. "Princess Diaries"
Not gonna lie, still waiting for that foot-popping kiss to happen to me IRL.
23. "Fifty Shades Of Grey"
OK, this is maybe the worst movie of all time, with possibly the worst message of all time, BUT this is hot. Sorry.
22. "Dirty Dancing"
Oh yeah, yeah, yeah, NBD. I look like that too when I seductively dance with my crush at the club and then lean in for a kiss.
21. "Sixteen Candles"
Yeah, yeah, yeah, yeah, yeah, I don't want to brag, but, like, the same thing happened to me when I turned 16. IT'S NO BIG DEAL.
20. "Jerry Maguire"
This might be the greatest romantic one-liner of all time, and the kiss afterwards is just as perfect.
19. "Lady and the Tramp"
I DON'T CARE THAT THEY'RE CARTOON DOGS, IT'S FREAKIN' ROMANTIC, OK??
18. "Brokeback Mountain"
Heath Ledger. Jake Gyllenhaal. Forbidden love. Need I say more?
17. "Ghost"
Hey, wanna cry about how little you know about true love?? Watch "Ghost."
16. "Crazy, Stupid, Love"
I mean, really anything with Ryan Gosling should make the list.
15. "Cruel Intentions"
Sarah Michelle Gellar, you are so evil and amazing, and we're all into it.
14. "The Princess Bride"
I mean, duh, it's THE classic fairytale.
13. "My Girl"
If this isn't the most adorable thing you've ever seen, you have no soul.
12."Step Up"
Yeah, yeah, yeah. This is another example of what I look like when I'm playfully dancing around with bae and stop for a quick make-out sesh.
11. "Breakfast Club"
I will never forget about you, Judd Nelson. *Fist pump*
10. "Pride and Prejudice"
THEIR LOVE IS THE DEFINITION OF ROMANCE.
9. "A Walk to Remember"
Can you feel the sexual tension seeping through the screen?!
8. "Breakfast at Tiffany's"
Pretty sure every movie kiss is inspired by this movie kiss.
7. "When Harry Met Sally..."
I was, like, pretty into Billy Crystal by the end of this movie, so I think that says it all.
6. "Twilight"
This is what I so hoped my first kiss with my high school boyfriend would look like, and yet, this is so far from what any kiss I had in high school ever looked like.
5. "Casablanca"
Things I wish I could say to someone, but I'm broke and live in the real world where nothing is this romantic ever.
4. "Pretty Woman"
Julia Roberts made us all want to become hookers, so we could make handsome millionaires fall in love with us, climb up fire escapes to passionately make out with us and give us the fairytale endings we so rightfully deserve.
3."Titanic"
OK, admit it. You've tried to recreate this about 100 times. It's just not the same without Leo, though.
2. "Spider-Man"
The science of how this kiss so flawlessly worked out will be studied for ages.
1. "The Notebook"
I'm sorry, but, like, did you really not think this would be number one?