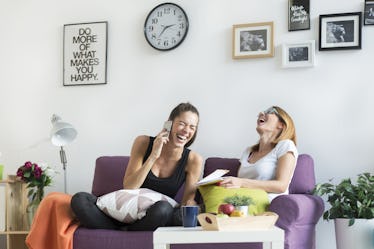 10 Hilarious Things You Bond With Your Roomie Over That Turn You Into Best Friends
The transition from roommates to best friends is not meant for everyone. Some roommates simply remain roommates, while other roomies become the best friends you don't know how you ever lived without. A lot of what helps a friendship like that blossom is some good old fashioned bonding time. I'm talking movie nights, taco Tuesdays, trips to the laundromat, and Sunday brunches. To take your relationship that extra mile of friendship, there are some hilarious things you bond with your roommate over that turn you into lifelong friends.
Every friendship is unique. Some even take time to get to a certain level. It definitely helps that you and your roommate are living together, so you get to be the your complete selves at all times. To help that friendship along, you have some simple roommate bonding. At the base level, you watch your favorite rom-coms together while eating takeout from that cute Thai place down the block. Though, it's the hilarious and cringe-worthy moments that truly make a friend feel more like a sister. You'll discover those on your own, but if you and your roomie have bonded over any these 10 things, you pretty much feel #blessed to have found your person.