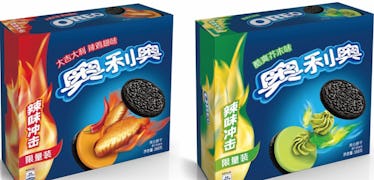 This Is Where You Can Get Oreo's Chicken Wing & Wasabi Flavors For A Spicy Treat
Oreo
I don't know about you, but my ears always perk up whenever I hear about the introduction of a new Oreo flavor. Of course, I usually like the sweet and dessert-like flavors the most, but other flavors can also be very intriguing. One of the newest international offerings from Oreo taps into some very unique foods for its newest cookies. With that, you might be wondering where to buy Oreo's Hot Chicken Wing and Wasabi flavors. Well, if you really want to get your hands on these spicy snacks, you'll need to grab your passport.
In a move that could turn the dessert-snack world on its head, Oreo's parent company, Mondelez International, introduced the Hot Chicken Wing and Wasabi flavors in a tweet on Tuesday, Aug. 21. Currently, these new flavors are only available in China, per Mondelez. So, if you're really set on trying these new spicy fillings that are sandwiched between the chocolate Oreo wafers that you know and love, you'll have to head to China. Elite Daily reached out to Mondelez for a more detailed flavor description of these head-turning flavors but did not hear back at the time of publication.
Unfortunately, I couldn't even find these hot cookies on Amazon at the time of publication.
TBH, I'm not sure if these new Oreo flavors will turn out to be unexpected food combinations that somehow totally makes sense — or if one bite will make you wish you kept your dinner and dessert flavors separated — but I guess there's only one way to find out.
One thing you can count on with these treats is guaranteed spice. Per Design Taxi, Oreo describes its new offerings as "salty and spicy." Oh, and don't be fooled by the vibrant orange and green colors at first glance, thinking that these might be some kind of creamsicle or matcha cookies (TBH, I totally thought the Wasabi cookie was a green tea flavor at first look), because Oreo told Design Taxi that these new offerings are flavors "you never knew" existed.
I tend to agree with the cookie company that I also never thought that I'd see a Hot Chicken Wing Oreo, yet here it is. Oreo lovers not living China will have to be satisfied with photos and descriptions of the new cookies, because China is currently the only location where you can buy these amped-up treats. If you're salivating over (or questioning the existence of) these Wasabi and Hot Chicken Wing Oreos in the United States, there are sadly no current plans for sale of the snack stateside, per Mondelez.
There's no need to get too bummed about the fact that you can't grab these flavors in the United States, because there are also plenty of new U.S. flavors that you can enjoy. If you're trying to keep that summer feeling as September quickly creeps up, you can get a quintessential taste of the season with Oreo State Fair Cookies, which are very similar to the deep-fried Oreos that you'll find at practically every state fair across the country.
One bite of the Oreo Sate Fair Cookie should ease any sadness you might have about not being able to chow down on Hot Chicken Wing Oreos. Here's to hoping Oreo's next savory AF flavor makes its way stateside.