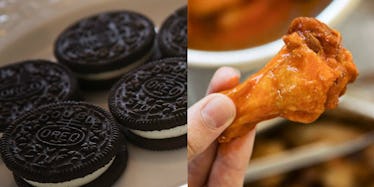 Can You Handle Oreo's New Hot Chicken Wing & Wasabi Flavors?
"Back in my day, I remember when Oreo's were just chocolate cookies with a little vanilla icing in the middle," I muttered bitterly, rocking back and fourth in a rocking chair. OK, full disclosure: I don't actually own a rocking chair. However, Oreo is always coming out with wild new flavors, and it makes me feel so old. Between crazy flavors like Cherry Coke, Peanut Butter, and even Birthday Cake, I can't keep track. Most recently, the company made a slew of savory flavors available in China, so if you're interested in trying Oreo's Hot Chicken Wing and Wasabi flavors, I'd recommend getting your plane ticket now.
It looks like Oreo China is currently taking the lead in unique Oreo flavors. For real, they might actually make your brain — and your tastebuds — simultaneously combust into flames. According to Design Taxi, Oreo's parent company, Mondelez, released Wasabi Oreo's and Hot Chicken Oreos, and they're only available in China right now. Mondelez shared the tasty news and an image of the vibrant cookies in tweet from its official Twitter account on Aug. 21.
Both flavors are actually so spicy, that it's recommended you drink them with a glass of milk, to help cool down your mouth. As a longtime spice fiend, I'm eagerly waiting for them to hit shelves in the United States. Elite Daily reached out to Mondelez for a comment on whether the new flavors would have a U.S. release but did not hear back at the time of publication. My fingers are crossed.
Many people in the Twitterverse (ahem, like myself) seem pretty excited about these new and unique Oreo flavors. I mean, I don't think you can find a chicken wing-flavored cookie anywhere else in the U.S. right now, am I right? They sound like a real delicacy to some. Who knows? It could even became a new fan-favorite flavor.
Others in the Twittersphere, on the other hand, are a little bit skeptical about the idea of these savory cookies. I will admit that they're, um, a little unusual, but they're definitely different from anything I've ever tried before. To be honest, everyone should try and give them a shot at some point. What do you have to lose?
However, you might be in the mood to grab a new and interesting Oreo flavor that's more readily available. Luckily, Oreo's Rocky Road Trip cookies were just released this summer. They supposedly taste like an actual scoop of Rocky Road ice cream, and they're made with real bits of marshmallow as well as soy nuts (for that seemingly-authentic crunchy almond taste, obviously). They became available last month on July 23, and luckily, you won't have to go all the way to China to give 'em a try.
Oreo has been getting super innovative with its flavor lineup, but Oreo China just blew Oreo U.S. out of the water. Between the Hot Chicken flavor and the Wasabi flavor, you'll definitely be needing a glass of milk to wash it all down, and I can guarantee you'll be sweating after just a few bites. I wish you the best of luck. Oh, and if you get your hands on them, send me a sleeve, please! I'll probably down 'em quicker than you can ask for water.