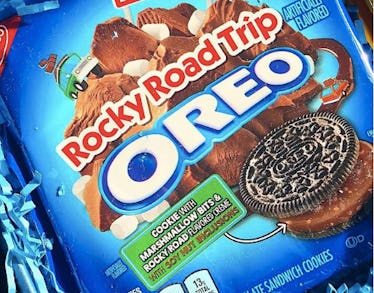 Oreo's Newest Cookie Is Infused With Marshmallows, So Count Me In
Please, correct me if I'm wrong, but mid-to-late summer is the ideal time to take a road trip. The weather is straight-up beautiful, work (usually) tends to be a little slow, and you might even still have some time off (if you're still in school, that is). There are so many cool places you can visit in your car, and regardless of where you're headed, finding the perfect road snack is just as important as making a killer music playlist or ensuring that you remembered to get an oil change in the last three years. Luckily, Oreo's Rocky Road Trip cookies are hitting shelves soon, and they're going to be infused with nuts and actual marshmallow bits. So yeah, count me in.
Whether you're heading to the vast Rocky Mountains, the beaches in Virginia, or to the Windy City of Chicago, Illinois, Rocky Road Trip Oreos truly are the ideal car snack. They were made to taste like actual Rocky Road ice cream, and according to Pop Sugar, they're infused with real bits of marshmallow, as well as soy nuts (to get that crunchy almond taste, of course). Thankfully, you won't have to wait too long to try these babies, because the new flavor will officially hit shelves in just a few days, on Monday, July 23. So praise the cookie-lovin' lords, because my stomach is grumbling, and my glass of milk has already been poured.
I mean, really, just look at these glorious gems. Heaven really is a place on earth, people, and it's tucked inside of that Rocky Road Trip Oreo packaging.
Major Oreo fans such as @Junkfoodaisle had previously believed that Rocky Road Trip wouldn't hit shelves until fall 2018. However, I'm absolutely elated that all of us have, in fact, been proved wrong. It seems as though Christmas has come early, and I'm not mad about it, in the slightest.
According to famous food-stagrammer, @JunkBanter, the latest and greatest cookie has definitely been worth the wait. Based on his description, Oreo's newest cookie totally tastes like the ever-popular ice cream flavor, Rocky Road, and if that doesn't get you ready to partake in some of that classic milk-dunking action, I seriously don't know what will.
The caption of @Junkbanter's Rocky Road Trip Oreo Instagram post says it all:
Whenever you can combine #NationalIceCreamDay with your favorite cookie, it's a big time win. Rocky Road Trip Oreos - the second ice cream Oreo to release this month behind Good Humor Strawberry Shortcake — will release July 23rd. I think Oreo hit it out of the park honestly, offering some firsts with marshmallow bits in the cookie and soy nut inclusions to emulate those almonds. Full review closer to launch date but I think they rule. They're like the Hot Cocoa Oreos slept with the Brownie Batter Oreos. Thank you @oreo for the sneak peak! My only life goal accomplished.
There really is nothing better than the release of a new Oreo cookie flavor, and I have to say that Rocky Road Trip is probably their most exciting flavor yet. So until that fateful release date, I'll be here, getting prepared for the road trip (and Oreo binge) of a lifetime.