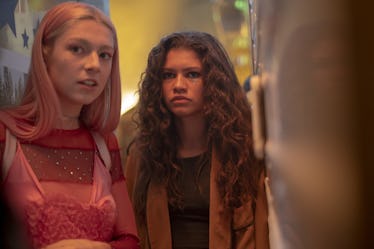 10 'Euphoria' Theories That Are So Wild, They Just Might Be True
Eddy Chen/HBO
Every now and then, audiences are given a show that is so out there, they can't help but get sucked in. Right now, that show for many people is Euphoria, HBO's gritty teen drama that puts the dark side of high school life on display, including sex, drugs, and risky social media behavior. With so many character arcs to follow, motives to question, and plot twists to anticipate, it's no surprise the show's fanbase has inundated the internet with their ideas for what is to come in the series. Here are 10 Euphoria theories that are so wild, viewers kind of can't help but wonder if there's actually some semblance of truth to some of them.
Before getting into it, here's a reminder that this show is not for the faint of heart (and definitely not for the young of age!). As Zendaya, who stars in the show, warned fans on her social media accounts, Euphoria is a "raw and honest portrait of addiction, anxiety, and the difficulties of navigating life today," and that some of the themes and scenes "are graphic, hard to watch, and can be triggering." As such, the theories surrounding the show are also pretty disturbing.
Still hanging in there? OK, buckle up for the theories.
Spoiler alert: This post contains spoilers from the first five episodes of Euphoria.