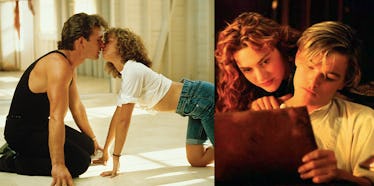 10 Romantic Dates Inspired By Classic Movies You Can Recreate At Home
Vestron Pictures / Paramount Pictures
Real talk: I live for a good rom-com or romantic drama. The only problem? I find myself yearning for the same Hollywood-level grand gestures in my own life. The truth is, you don't need a big budget (or a swoon-worthy silver screen star) to channel some of that same magic, though. If you and your SO are looking to shake up your next hang, there are so many dates inspired by classic movies that you can easily recreate right at home.
Getting creative with date nights can be tough. Hence, you and your partner may have settled into a bit of a routine that looks a little something like this: Go out to dinner or order delivery, and then spend 45 minutes mindlessly scrolling through Netflix until you finally find something you can both tolerate watching. Been there, done that. Whether you know it or not, though, your fave romantic flicks are chock full of unique ideas that you can totally steal. For instance, you could emulate the rooftop dinner with classical music in Kate & Leopold, a playful round of paintball à la 10 Things I Hate About You, or chillin' on a swing set and munching on nostalgic candy like they do in 13 Going On 30.
If you've ever found yourself envious of the fictional couples on your screen, these dates are sure to make you feel like you're starring in your very own romantic movie.