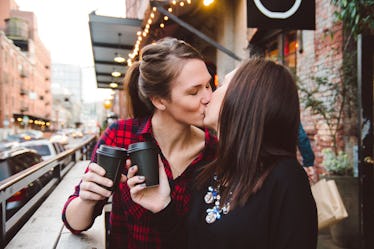 10 Clever Ways To Ask Someone Out On A Dating App, Because It Can Be Nerve-Wracking
I think it's time we all admit that dating apps are amazing. Sure, maybe when you first heard of them you were skeptical or thought they were just for hookups (I know I did). In reality, they're amazing. In fact, I met my fiancé on a dating app — so don't tell me they don't work. But, if you're giving it a go, and need some help making the first move, then these clever ways to ask someone out on a dating app are sure to help you out.
It's not easy meeting someone online who you genuinely could see yourself with long-term. If you're looking for a serious relationship, a lot of people will tell you that using a dating app is the wrong way to go. But that isn't true. You can meet the love of your life on Tinder, and you can totally be happy. You just have to be willing to go for it.
One of the best things parts about being on a dating app is that there's somewhat less of a fear of a rejection, since you're not asking someone out face-to-face — so take advantage of that! Get your fingers typing and ask that cutie out! There's no regret in taking a risk.