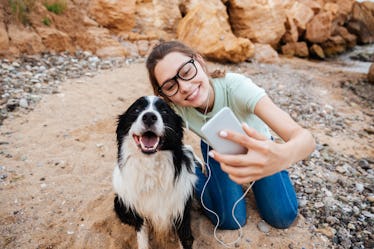 The 10 Best TikTok Challenges To Do With Your Pet Deserve A Round Of Appaws
Shutterstock
Let's face it: The internet was made for cute dogs and hilarious cats. Seeing a picture, video, or meme of someone's fur baby is one of the easiest ways to put a smile on your face real fast, so it only makes sense that the best pet TikTok challenges are too adorable to sleep on. You may find yourself scrolling through TikTok to pass the time, and nothing makes you stop scrolling to watch more than a cute pup or cat.
Your fur baby has probably witnessed you practicing TikTok dances and lip syncs over and over again. Now it's time for them to take the spotlight in a few challenges of their own. A lot of these pet challenges are all about the adorable ways your fur baby reacts to sounds or dances, but some also test their agility and snacking skills. As a proud pet pawrent, you can't wait to show off what your fur baby can do.
All you need to do is find the right challenge, and see if your dog or cat is up for some fun. You never know, you may end up with the most adorable video ever that you can't wait to share on all your social outlets.