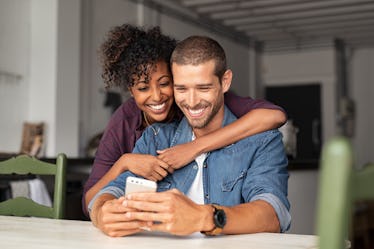 These Disney Challenges On TikTok Are So Much Fun & I Ain't Lion
Shutterstock
By now, you're probably pretty familiar with the most trending TikTok challenges, like #FlipTheSwitch and #BlindingLights. You've seen them all, but have you spotted the Disney challenges on TikTok? As a true Disney lover, it's time for you to step up to the challenge and try your hand at some of those, too.
If dancing or lip syncing aren't really your jam, no worries. Most of these Disney TikTok challenges are pretty simple and LOL-worthy. You already know and love the classic films, which is basically step one. For someone who has seen The Lion King a million times, you'll get a kick out of the #SimbaChallenge. Fans of Disney Channel Original Movies will recognize quite a few of these as well. All you need to do is start with one challenge. Recruit your roomies or best friends to be in the TikTok video with you. By the end, you'll want to check off every single one on this list.
Reward yourself for being a Disney TikTok challenge champ by making some Mickey-shaped treats and streaming your favorite Disney films. You never know, you may be inspired to start your own Disney TikTok challenge from your favorite movie, park ride, or TV show. The magical possibilities are endless.