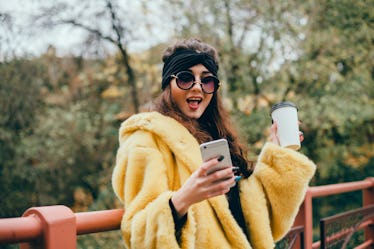 16 Best TikTok Hashtags To Favorite That'll Inspire Your Own Content
Shutterstock
It's easy to find yourself endlessly scrolling through TikTok watching video after video. Just from your "For You" page, you'll notice the most popular trends and the best TikTok hashtags to favorite. From dance challenges, to cooking videos, to makeup hacks, to memes, these are the videos that make you laugh, dance, and want to get up and create your own content.
It's hard to know where to begin when there's so much to see on TikTok. That's why it's best to try a challenge or two. There are hashtags that are great for dancers, pet parents, fashionistas, and home cooks. You just have to know what to favorite and follow. Luckily, the "Discover" page is great for seeing what's currently trending, but this list of 16 of the best TikTok hashtags are great go-to's.
Hashtags are the way to get people to see your content, and you might even end up on someone else's "For You" page, which could get you some new followers. That's why it's important to use and follow the hashtags that may help you rake in the likes. Not to mention, knowing the right hashtags will make sure your TikTok scrolling is always filled with what you like to see.