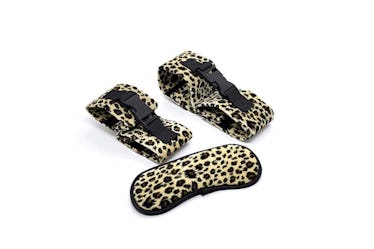 10 BDSM Starter Kits To Give Your Sex Life A Little Spark
KIMMAO x Amazon
Whether you're looking for a gift set to heat up the holidays, or want to spoil your partner any time of year, a BDSM starter kit might be just what you need. While there's nothing wrong with more "traditional" sex positions, trying out kink in the bedroom can give you and your partner the chance to explore your sexuality together and dive into something new. ICYMI, BDSM is an umbrella term for three types of sexual play: bondage and discipline, dominance and submission, and sadism and masochism. In practice, this could include bondage in the form of handcuffs, sensation play in the form of spanking, or pleasurable pain play, like nipple clamps.
Millennials are no strangers to kinky sex. A 2019 Cosmopolitan study found that 20% of respondents said they had done BDSM, while 44% said they had used a sex toy with a partner. Whether you and your partner are curious about BDSM (consent from both parties to participate in BDSM is crucial), or you've tried it and want to experiment further, investing in a sex toy bundle is a fun and efficient way to try a little bit of everything when it comes to kinky sex.
Once you and your partner have established a safe-word, here are 10 BDSM starter kits you can look into to add a little spark to your sex life.