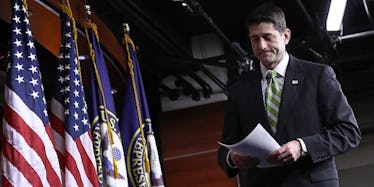 If You're A Woman Without Insurance, The AHCA Makes Getting Health Care Even Harder
Getty
The American Health Care Act (AHCA) — the Republicans' new health care plan to repeal and replace Obamacare — was passed in the House on Thursday.
Should the bill get through Senate and become law, it is predicted to have many negative affects on various groups of people throughout the country, women included.
We don't yet know how bad it could get for women without health insurance, but we do know that being a woman without insurance under the AHCA makes getting health care much, much harder.
While the AHCA takes away Obamacare's requirement that everyone have insurance, it creates an expensive reason to be on a plan.
Under the GOP bill, if you go without insurance for more than 63 days, your premium will automatically go up 30 percent if you eventually decide to get back on it.
Meanwhile, AHCA would severely limit preventative care for women, while also exponentially driving up the cost of getting pregnant.
While Obamacare made contraceptives, like the birth control pill, free, for patients, the AHCA allows states to opt out of covering "essential care," which includes contraceptives.
The American Health Care Act will phase out Medicaid expansion if it's passed. Keep in mind that 60 percent of women's health care funding comes from Medicaid, and that many people use Medicaid to pay for Planned Parenthood services... so this definitely isn't good.
Under the American Health Care Act, Planned Parenthood would no longer be able to use federal funding for family planning and abortion services.
So, basically, it will deny women easy access to contraceptives and makes it even more expensive to be pregnant. Great.
Cecile Richards, President of Planned Parenthood, released a statement on Twitter and called the AHCA the "worst bill for women and women's health in a generation."
She said,
Members of Congress just voted to take away health care coverage for millions of people and block access to Planned Parenthood for our patients who rely on Medicaid. The bill also strips away essential health benefits -- including maternity care -- and it undermines protections for millions with pre-existing conditions.
In addition to completely barring funding to Planned Parenthood, the bill would also keep people from using tax credits to purchase an insurance plan that offers abortion coverage.
So if you were a female post-grad without insurance that needed abortion, you would need to pay for it.
The AHCA will also make it difficult for young women without insurance to receive care if they were already pregnant.
According to New York Times, states would have the opportunity to opt out of certain previsions of the Affordable Care Act, including maternity care.
So basically, the AHCA would make it extremely difficult and expensive for young women without insurance to receive preventative care. It would also make it difficult to access contraceptives that would help prevent pregnancy.
Since the bill was passed by the House, women have already began protesting its policies on Twitter.
The bill will move forward to the Senate, and if it loses even three votes, it will not pass.