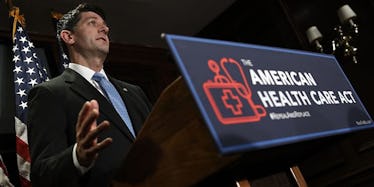 The GOP Health Care Bill Would Hurt The Students Most In Need Of Help
Getty Images
You can now count another group of people that would be dramatically affected by the GOP's latest healthcare proposal: special needs students. Update: On Thursday, the House of Representatives passed the American Health Care Act and it will now go to the Senate. 
Earlier: As the House of Representatives is prepared to vote on the American Health Care Act, the New York Times reported on a "little-noticed provision" of the bill, which would negatively impacts schools' ability to pay for the services of special education personnel.
Here's how the provision works.
Should this version of the AHCA pass through Congress and receive the president's signature, schools would no longer be considered Medicaid providers.
That fact is important because Medicaid helps covers services to students with disabilities. When schools pay for those services, they are eligible to be reimbursed by the federal government which, of course, funds Medicaid.
According to AASA, the school superintendents association, those reimbursements amount to $4 billion of funding annually.
Schools use 70 percent of this type of funding to pay for professionals that serve special needs students, according to a survey of 1,000 schools in 42, a study which was reported by the Times.
John George, executive director of Pennsylvania's Montgomery County Intermediate Unit, told the paper,
It's devastating. Our most vulnerable citizens are going to be suffering the most. If any legislator votes for this, it's unconscionable.
Making cuts related to healthcare means making some of the most vulnerable people, like kids with disabilities, even more vulnerable.
Regardless of what the party's actually intention is, that reality makes Republicans prone to the accusation that they are "targeting" kids.
Vickie Glenn, a Medicaid coordinator in Illinois, told the Times,
If I could have 10 minutes with President Trump, I could help him understand what we do, why it's important. If he understood, he would protect it, because this isn't Republicans and Democrats. It's just kids.
Overall, the latest bill for healthcare reform bill aims to cut Medicaid by 25 percent (which would amount to around $880 billion) over the next 10 years, according to CNBC.
The House is expected to vote on the bill on Thursday, as Republican leadership attempts, for a second time this year, to fulfill its promise to repeal Obamacare.