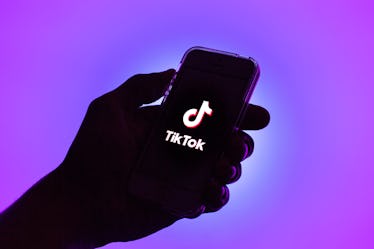 Here's Why You Don't See TikTok's New Stories On Your App
There's a pretty simple explanation.
SOPA Images/LightRocket/Getty Images
TikTok is hopping on the Stories bandwagon by introducing it as a test feature. You've likely seen images of some TikTokers with the ability to create a TikTok Story, but you probably haven't been able to find it on your own app. If you're wondering why you don't have TikTok Stories, the answer is pretty simple. Here's everything you need to know about TikTok's latest test feature.
Screenshots of TikTok Stories began circulating on Twitter on Wednesday, Aug. 4. Social media commentator Matt Navarra shared a few images of TikTok Stories, and it looks very similar to other Story formats on Instagram and Snapchat. According to TikTok, the new feature is being tested with a very small group of users. "We're always thinking about new ways to bring value to our community and enrich the TikTok experience," a TikTok spokesperson said in an emailed statement to Elite Daily. "Currently, we're experimenting with ways to give creators additional formats to bring their creative ideas to life for the TikTok community."
As for why most users can't see TikTok Stories on the app, that's pretty simple. The test feature is only available in a small number of markets, and TikTok Stories is not being tested in the United States at all, according to TikTok.
For TikTokers with the Story test, the available photos of the test show that posts in TikTok Story posts will disappear after 24 hours. There's also what appears to be a dedicated Stories Camera and a spot to watch TikTokers' Stories.
It's too early to speculate on whether TikTok Stories will eventually be released to all TikTokers, but Instagram head Adam Mosseri weighed on the test in a tweet on Aug. 4, calling it "inevitable." In response to Navarra's tweet, Mosseri wrote, "This was inevitable. ByteDance has been looking for ways to get into connecting friends for years. They're talented, they move fast, and they are nothing if not determined."
According to TikTok, though, there are no set plans to go wide with TikTok Stories. In fact, the test only launched days before it was shared on Twitter.
TikTok regularly tests a variety of tools and features to get insight into its user experience and boost the value of its creative toolkit. Other features TikTok has recently rolled out permanently or piloted include TikTok's pilot for resume videos for job openings, longer videos of up to three minutes, and a fast-forward feature.
While you're waiting to see if TikTok's Stories feature becomes an ~official~ feature, you can still enjoy all that the app has to offer.