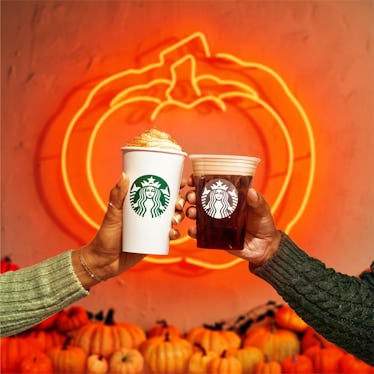 Starbucks' PSL Is Set To Make Its Earliest Return Ever
It's almost time for your first sip of fall.
Courtesy of Starbucks
Although you might not be thinking about cozy season just yet, Starbucks will soon have you sipping your way into fall. Traditionally, the pumpkin-flavored coffee hits the menu in late August, and this year is no different. On Monday, Aug. 23, the company finally revealed when Starbucks' Pumpkin Spice Latte will come back for 2021 — and it's so soon.
Mark your calendar for Tuesday, Aug. 24, because that's when Starbucks' Pumpkin Spice Latte will return for its 18th year on the menu in the United States and Canada, according to an email from Starbucks to Elite Daily. The Pumpkin Spice Latte, which combines espresso, steamed milk, and a syrup with flavors of real pumpkin, cinnamon, nutmeg, and clove, is coming back earlier than ever this year with its Aug. 24 release date. In 2020, the Pumpkin Spice Latte hit the Starbucks menu on Aug. 25 — the earliest official release of the sip at that time — but, of course, this Aug. 24 PSL release now takes the top spot as the earliest return of the fall sip.
It's a good thing the chain's Pumpkin Spice Latte is finally coming back, because it proves to be popular with customers year after year. According to information shared by Starbucks, the chain has sold an estimated 500 million Pumpkin Spice Lattes in the United States since it made its debut in 2003. Also returning on Aug. 24 is the equally popular Pumpkin Cream Cold Brew. Starbucks debuted this chilly sip in 2019, and according to the company, more than 90 million of the seasonal sips have been sold in the United States.
Starbucks is no stranger to getting a head-start on fall. The chain released its fall at-home coffee collection in late July 2021, and as of Aug. 24, you can get your fill of fall at Starbucks locations as well. You can get Starbucks' Pumpkin Spice Latte hot or iced, and it'll come topped with whipped cream and pumpkin pie spices for some extra fall feels.
When you finally head to Starbucks to grab your first PSL of the season, make sure to check the CDC guidelines for the most updated health rules.
This article was originally published on