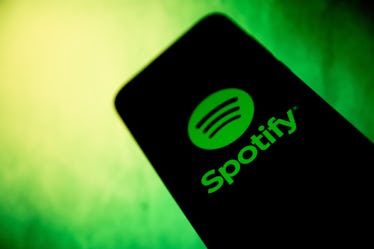 Spotify Went Down AGAIN, And Here's What To Know About The Issues
This really is Sad Girl Autumn now.
NurPhoto/NurPhoto/Getty Images
On Thursday, Nov. 18, iPhone users reported instances of the Spotify mobile app crashing, and the company confirmed the issues in a tweet at 12:20 p.m. ET. According to Down Detector, more than 3,000 instances of Spotify users experiencing app outages were reported around noon ET (compared to a baseline of nine reports on a normal day). If you noticed the same issues, here's what to know about Spotify going down.
Spotify's official support Twitter account @SpotifyCares confirmed the mobile app's issues in a tweet on Nov. 18. "Thanks for your patience! We're still investigating, and we'll keep you posted here: https://bit.ly/3oFbMBo," the company wrote. Elite Daily reached out to Spotify for further information about the issues, and a spokesperson pointed to a Nov. 18 post on the Spotify Community website where a Spotify moderator confirmed the outage issues around 12:20 p.m. ET.
According to the note about Spotify's app crashing on iOS, the company "received some contacts from users who are having issues with the app crashing." The moderator further explained, "This seems to be happening on iOS devices at the moment. This is being investigated."
The thread also instructed those experiencing the issues to upvote the post, subscribe to the thread, and leave a note with which version of Spotify is giving them issues and which device and iOS version they use.
The Spotify Status Twitter account shared a tweet that issues were fixed as of 4:26 p.m. ET, and Spotify Cares shared a similar message on Twitter at 6:26 p.m. ET, which read, in part: "Everything's looking much better now!" (So, yes, you can finally stream "All Too Well (Sad Girl Autumn Version)" again (and again, and again) from an iOS device.)
About 60% of the Spotify issues reported on Down Detector were with the mobile app, and according to the Spotify note, the crashes appears to have been mainly on iOS devices on Nov. 18. Some responses to the note included users experiencing the issue on iPhone 6, iPhone XR, iPhone 11 Pro Max, iPhone 12, iPhone 12 mini, iPhone 13, and iPhone 13 Pro Max.
For people who experiences the outage on their iPhone, the reports illustrate that when they would start playing a song, it will stop or pause and then crash shortly after.
Spotify went down just a couple days after a widespread outage, thanks to a Google Cloud issue on Nov. 16. The company also launched a new Lyrics feature launched on Nov. 18, the same day as the iPhone issues began, but it's unclear if the Nov. 18 was related to the Nov. 16 issue or the new feature.
It appears the issues fixed late in the afternoon on Nov. 18 are gone for the time being. You can stay updated if any future issues happen by following updates from the company on Twitter.
This article was originally published on