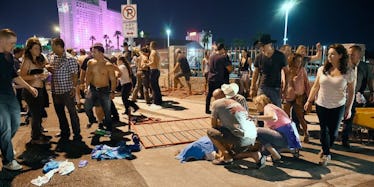 "Pray For Vegas" Tributes Are Raising Awareness & Support All Over Social Media
David Becker/Getty
On Sunday, Oct. 1, just after 10 p.m. local time in Las Vegas, Nevada, a gunman opened fire during the Route 91 Harvest Festival, killing over 50 people and injuring upwards of 400 civilians. In the wake of what is now being called the deadliest mass shooting the United States has ever seen, "Pray for Vegas" tributes and memes have surfaced on social media as a means for people across the world to express their overwhelming sadness, raise awareness for gun control, and support the victims and their families.
UPDATE: Las Vegas Police Department Sheriff Joe Lombardo has confirmed that at least 58 people were killed and over 515 were injured in the shooting. The shooter has also been confirmed dead and is not believed to have a connection to any terrorist group.
EARLIER: Many of the "Pray for Vegas" tributes appearing on Facebook, Twitter, and Instagram feature an angled aerial shot of the south end of the Las Vegas Strip with the sign for the Mandalay Bay Resort and Casino — the spot where the shooter opened fire on concertgoers from his hotel room — displayed in the left corner. As we have seen happen with similarly horrific events in the past, it seems this has become the official symbol for "Pray for Vegas."
Still, other tributes feature different pictures of the Las Vegas strip with "Pray for Vegas" written on it, and some simply feature heartfelt messages to the victims, their families, the residents of Nevada, and all those involved in this senseless tragedy.
Many celebrities and politicians have taken to their social accounts, as well, to share their own sincerest condolences and feelings of despair during yet another time of brokenness and confusion in our nation's history.
Indeed, some have even spoken up about the need for stricter gun control laws in the United States. Hillary Clinton's message, "Our grief isn't enough. We can and must put politics aside, stand up to the NRA, and work together to try to stop this from happening again," on Twitter is only one of many urging the country to come together in support of gun control in an effort to make violence like this harder to carry out.
Jason Aldean — the performer who was on stage during the attacks — took to his Instagram page with an emotional reaction to the horrific tragedy.
The country singer captioned his "Pray For Vegas" tribute photo with a heartfelt message to his followers and everyone involved:
Tonight has been beyond horrific. I still dont know what to say but wanted to let everyone know that Me and my Crew are safe. My Thoughts and prayers go out to everyone involved tonight. It hurts my heart that this would happen to anyone who was just coming out to enjoy what should have been a fun night. #heartbroken #stopthehate
In addition to "Pray for Vegas" tributes, major accounts like the Las Vegas Metropolitan Police Department and CBS have been using social media to share ways to help the victims of the Las Vegas shooting imminently. Indeed, several accounts have posted the addresses of blood donation sites in Nevada and phone numbers to call to look for missing loved ones. If you're unable to donate blood in the area, sharing these messages via your own social accounts can help spread their reach, and donations to the Red Cross and GoFundMe pages set up for the victims are always helpful, as well.
This attack in Las Vegas is the deadliest mass shooting since June 2016 when a similarly horrific shooting at Pulse nightclub in Orlando, Florida claimed 49 lives.
As thoughtful and poignant as the "Pray for Vegas" tributes are in this time of hopelessness, there is a clear need for legislative reform here — one which should not be ignored.
Senator Chris Murphy, a Democrat from Connecticut, is one of several members of Congress actively pursuing for stricter gun control laws. The senator called for Congress to take action in a Monday morning statement following the violence in Las Vegas where he says,
This must stop. It is positively infuriating that my colleagues in Congress are so afraid of the gun industry that they pretend there aren't public policy responses to this epidemic. There are, and the thoughts and prayers of politicians are cruelly hollow if they are paired with continued legislative indifference. It's time for Congress to get off its ass and do something.
Senators Cory Booker (D-NJ) and Elizabeth Warren (D-Mass) echoed their Connecticut colleague's sentiments on Twitter, saying "We must take common sense, widely supported, steps to reduce such violence..." and "We need to have the conversation about how to stop gun violence. We need it NOW."
There will be no lasting relief from tragedies like this until necessary legislature is in place. You can contribute to the efforts for more careful gun policies in the United States by contacting your representatives in Congress and actively showing your support for ending gun violence.
Our hearts are with everyone impacted, locally and globally, by the tragedy in Las Vegas, as well as all those people affected by gun violence in the past. May we work together to bring a sensible, achievable end to this hideous epidemic.