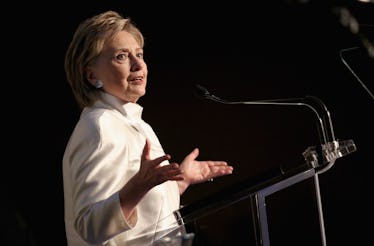 Hillary Clinton Calls For Action Following Las Vegas Shooting: "Our Grief Isn't Enough"
Monica Schipper/Getty Images Entertainment/Getty Images
On Sunday night, Oct. 1, around 10 p.m. local time, a gunman opened fire on concertgoers who attended the Route 91 Harvest festival in Las Vegas, Nevada. On Monday morning, Hillary Clinton responded to the Las Vegas shooting with a call to action to her Twitter followers.
Update: Las Vegas Police Department Sheriff Joe Lombardo has confirmed that at least 58 people were killed and over 515 were injured in the shooting. The shooter has also been confirmed dead by a self-inflicted gunshot wound and is not believed to have a connection to any terrorist group.
Earlier: The former secretary of state wrote in a series of tweets,
Las Vegas, we are grieving with you—the victims, those who lost loved ones, the responders, & all affected by this cold-blooded massacre.
The crowd fled at the sound of gunshots. Imagine the deaths if the shooter had a silencer, which the NRA wants to make easier to get.
Our grief isn't enough. We can and must put politics aside, stand up to the NRA, and work together to try to stop this from happening again.
With 50 dead and approximately 400 people injured, the Las Vegas shooting is now being considered the deadliest mass shooting in United States history. During the concert, the gunman opened fire on concertgoers outside the Mandalay Bay Resort and Casino. The shooter has been identified as a Nevada local and was fatally shot on the 32nd floor of the resort. The Las Vegas shooting is not believed to be connected to terrorism, as reported by NBC News.
One young man passed away as we were carrying him out ... We had him in the ambulance, we were loading him in the ambulance and the guy said 'let's set him down here,' So, I set him down with myself and the young man passed away ... It's been a tough night ... So many people died and are wounded. It's very sad ... I'm glad some people are safe and it's a terrible tragedy. I don't know what other words you could use for it.
On Monday morning, President Donald Trump took to Twitter to share his condolences following the Las Vegas attack. He wrote to followers,
My warmest condolences and sympathies to the victims and families of the terrible Las Vegas shooting. God bless you!
Trump addressed the nation on Monday, Oct. 2, in regards to the deadly Las Vegas shooting from Washington.
He said,
I want to thank the Las Vegas Metropolitan Police Department, and all of the first responders for their courageous efforts and for helping to save the lives of so many. The speed with which they acted is miraculous and prevented further loss of life.
To have found the shooter so quickly after first shots were fired is something for which we will always be thankful and grateful. It shows what true professionalism is all about.
However, Trump is being criticized for not discussing gun control in his speech.
He did quote scripture and said,
Scripture teaches us, "The Lord is close to the broken hearted and saves those who are crushed in spirit." We seek comfort in those words, for we know that God lives in the hearts of those who grieve.
Ultimately, Trump offered support, prayer, and unity for the victims and their families:
To the wounded who are now recovering in hospitals, we are praying for full and speedy recovery and pledge to you our support from this day forward.
He also said he would be flying to Las Vegas on Wednesday.
In addition to Clinton and Trump, former President Barack Obama responded to the shooting with a message from him and Michelle, writing,
Michelle & I are praying for the victims in Las Vegas. Our thoughts are with their families & everyone enduring another senseless tragedy.
Our thoughts and prayers are with the victims and their families during this time.