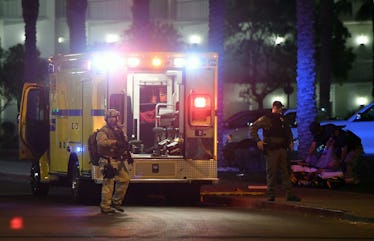 The Las Vegas Shooter Is Confirmed Dead & Here's What We Know About The Attack
Ethan Miller/Getty Images News/Getty Images
The shooter in the Las Vegas attack that killed at least 50 and wounded at least another 400 is confirmed to be dead, according to the Associated Press. The Las Vegas shooter reportedly shot down at people attending the Route 91 Harvest Festival in Las Vegas, Nevada, on Sunday, Oct. 1 from a room at the nearby Mandalay Bay Resort and Casino. The shooter reportedly checked into the room three days before the attack.
UPDATE: Las Vegas Police Department Sheriff Joe Lombardo has confirmed that at least 58 people were killed and over 515 were injured in the shooting. The shooter has also been confirmed dead and is not believed to have a connection to any terrorist group.
EARLIER: According to The New York Times, SWAT teams were sent to the gunman's hotel room shortly before midnight on Sunday, Oct. 1 and found the victim dead, apparently from a self-inflicted gunshot wound.
Authorities said the shooter had as many as 10 guns on hand for the massacre, including rifles. Clark County Sheriff Joseph Lombardo said the tragedy was a "lone wolf" attack and there was "no credible threat" to other public venues around the United States. He also said,
What we are going to try to do, as best we can, is to get our first responders back on their feet and responding and conducting a proper investigation to ensure that we have the safety of this community at heart.
Police say the gunman was the only shooter, but there is also a female person of interest in the case, who is believed to be the shooter's "roommate."
The attack happened during country singer Jason Aldean's performance at the festival. He posted a photo to his Instagram page after the incident. His post reads,
Tonight has been beyond horrific. I still dont know what to say but wanted to let everyone know that Me and my Crew are safe. My Thoughts and prayers go out to everyone involved tonight. It hurts my heart that this would happen to anyone who was just coming out to enjoy what should have been a fun night. #heartbroken #stopthehate
Witnesses at the festival recounted their experiences on social media and in the news. One woman spoke to the Today Show about what she saw. She said,
Once I came out of the event, there were a lot of people just bleeding everywhere ... Didn't know where the blood was coming from, didn't know whose blood it was ... There were people laying down ... One man was sitting next to me who had a bullet hole through his arm, and they just were like 'We cant help you right now ... we have other people to worry about. Please just wrap it up and please just hold still until we can come get you.'
Another witness told ABC,
One young man passed away as we were carrying him out ... We had him in the ambulance, we were loading him in the ambulance and the guy said 'let's set him down here,' So, I set him down with myself and the young man passed away ... It's been a tough night ... So many people died and are wounded. It's very sad ... I'm glad some people are safe and it's a terrible tragedy. I don't know what other words you could use for it.
The Las Vegas Metropolitan Police Department has confirmed that one of the deceased was an off-duty police officer. It shared on Twitter,
We are sadden to report that one of the deceased from Sunday night's shooting, was an off-duty #LVMPD police officer. #LVMPDnews
Our thoughts and prayers go out to all of the victims and those affected by the horrible tragedy in Las Vegas. For those in the area who are still missing loved ones, the LVMPD has set up a hotline at 1-866-535-5654.