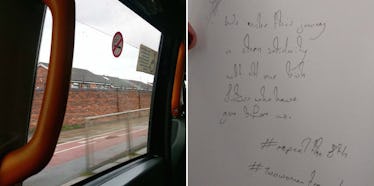 Women Live-Tweet Their Harrowing Journey To Get Abortion In Another Country
Twitter
Two Irish women documented their trip to the United Kingdom to get an abortion.
Abortion is illegal in Ireland, except in the case of danger to the woman's life, including risk of suicide. This has been a heavily contested ban.
When women can't access abortions, they often turn to risky forms that are illegal or self-induced, or are forced to spend time and money traveling to a place where it is legal.
The United Nations said in March restricting abortion access is a form of torture. In June, the United Nations called on Ireland to change its laws, saying a ban on abortion is cruel, inhumane and degrading.
The UN made this call ruling on a case about Amanda Mellet, who was denied an abortion after she found out her fetus had congenital defects and would either be stillborn or die shortly after birth.
The Irish women -- one who was getting the procedure and another who went with her for support -- live-tweeted their trip to the UK on the Twitter account Two Women Travel.
They directed most of their tweets to Enda Kenny, the prime minister of Ireland.
The women tweeted about flying to the United Kingdom and taking various forms of transportation before sitting in waiting rooms to get the abortion.
Abortions are very safe and quick procedures, lasting no more than 15 minutes and with extremely low rates of complication. But this journey, instead, took 48 hours.
During the live-tweet, people tweeted in support of the women and shared their own stories.
Simon Harris, Ireland's minister for health, tweeted in support of the women as well.
The two women ended their live-tweet with a note.
They included #repealthe8th, which refers to the amendment that makes abortion illegal in Ireland.
They wrote,
Everyday at least 12 Irish women are exiled to clinics in the UK to procure an abortion.
The United Kingdom Department of Health reported 3,451 Irish women went to England and Wales last year to get abortions, CNN reports.
The United States had their own legal showdown on abortion this year in the Supreme Court case Whole Woman's Health v. Hellerstedt, over restrictive laws in Texas. The court ruled in favor of Whole Woman's Health, striking down the restrictive laws.
But the law caused many clinics in Texas to shut down, leaving women throughout the giant state without access to abortions. Women like Dr. Valerie Peterson, who found out her son had Alobar holoprosencephaly, were forced to travel out of state to get the medical procedure. This preserved Peterson's mental health and wellness.
Like in Ireland, Texas women had to go far away from home to get an abortion, which is a quick and safe procedure when accessible and legal.
Citations: CNN, The Guardian