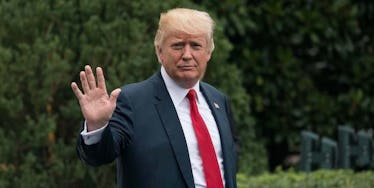 Twitter Is Calling Out The Real Reason Trump Won't Attend The Kennedy Center Honors
NICHOLAS KAMM/AFP/Getty Images
President Donald Trump isn't shy about publicity, and is definitely no stranger to glad-handing people in front of a camera. So it's almost a little disconcerting when he decides to skip a public event — and the internet definitely noticed when he announced that he was planning on missing the annual Kennedy Center Honors, ostensibly to avoid a "political distraction." But Twitter knows the real reason: tweets about Trump not attending the Kennedy Center Honors are calling the president out for not wanting to get publicly criticized.
President Trump announced on the morning of Aug. 19 that he would not be participating in the Kennedy Center Honors, an annual award ceremony for the performing arts. A statement released by the White House said in part,
The President and First Lady have decided not to participate in this year's activities to allow the honorees to celebrate without any political distraction … [they] extend their sincerest congratulations and well wishes to all of this year's award recipients for their many accomplishments.
Funny timing, that.
For one thing, the gala isn't being held until December, so it's a little early to be assuming that Trump's involvement with a ceremony more than three months from now will be a "distraction." (Though, looking at how the last few months of his presidency have gone, it's probably a safe bet.)
Oh, but wait — it comes after multiple Kennedy Center Honorees publicly said that they would boycott the awards in protest of Trump? Now things are starting to make more sense.
And Twitter called it: Trump isn't skipping because he's so concerned about letting artists have their moment in the spotlight.
It's because he doesn't want to get booed.
Dancer Carmen de Lavallade, who Vanity Fair notes was one of the first Black prima ballerinas to dance at the Metropolitan Opera, said on Aug. 18 that she would be boycotting the White House reception traditionally associated with the award.
In a statement, de Lavallade cited Trump's "morally caustic narrative."
De Lavallade is the second of the five honorees to decline, joining TV writer and producer Norman Lear, who said earlier this month he wouldn't go.
Honorees Lionel Richie and Gloria Estefan have also put their participation into question. Richie has said he'll "play it by ear," while Estefan wants to attend to have a discussion with the president about the value of immigrants in America, per The Washington Post.
The Kennedy Center Honors aren't really a political thing.
The awards are nonpartisan, and the White House traditionally holds a reception for the honorees. For the president it's mostly a PR event, a moment for the president to schmooze and be seen supporting the arts. Shaking hands with a famous singer, or dancer, that people like isn't usually a controversial issue.
But it looks like Donald Trump can make anything controversial. After he failed to publicly denounce white supremacists in the immediate aftermath of the deadly violence in Charlottesville, Virginia (and then quickly undermined the denouncement he did give, two days later), some are saying that his absence is because of his reluctance to condemn the alt-right.
But perhaps the best response came from the Kennedy Center itself.
The center released a statement from Chairman David Rubenstein and President Deborah Rutter shortly after the White House's statement, saying that the center was "grateful" for Trump's decision. "The Administration has graciously signaled its respect for the Kennedy Center and ensures the Honors gala remains a deservingly special moment for the Honorees," the statement read in part.
Well, that's one way to look at it.