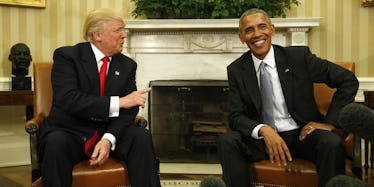 Trump Might've Been 'Person Of The Year,' But Obama Was Voted 'Most Admired'
REUTERS
President-elect Donald Trump might've been named Time's 2016 Person of the Year, but President Barack Obama is America's most admired man, according to a new poll from Gallup.
The poll asked,
What man that you have heard or read about, living today in any part of the world, do you admire most? And who is your second choice?
President Obama won with 22 percent of the vote.
Trump came in second with 15 percent, Pope Francis came in third with four percent and Senator Bernie Sanders came in fourth with two percent of the vote.
This is the ninth time President Obama has won this title.
Meanwhile, Hillary Clinton was named America's most admired woman, with 12 percent of the vote. She was followed by First Lady Michelle Obama, who won 8 percent of the vote.
The remaining top 10 most admired women were Angela Merkel, Oprah Winfrey, Ellen DeGeneres, Queen Elizabeth II, Malala Yousafzai, Condoleezza Rice, Elizabeth Warren and Sarah Palin.
Trump probably won't be happy about this, given statements he's made about the president over the past week.
After President Obama claimed he would've beaten Trump if he'd been able to run for a third term, the president-elect lashed out at him on Twitter.
On CNN's podcast, "The Axe Files," the president told David Axelrod,
I am confident in this vision because I'm confident that if I — if I had run again and articulated it, I think I could've mobilized a majority of the American people to rally behind it. I know that in conversations that I've had with people around the country, even some people who disagreed with me, they would say the vision, the direction that you point toward is the right one.
Between winning the title of America's most admired man and his approval rating recently hitting the highest point of his second term, the president makes a fair point.
But Trump clearly doesn't agree with him.
For years, Trump helped spread a racist conspiracy theory that President Obama was not born in the US.
During his campaign, he was also extremely critical of the president and at one point referred to him as the "founder of ISIS" (he's not).
In spite of all this, President Obama still invited Trump to the White House and was nothing but respectful after he won the election.
President Obama has arguably exhibited a great deal of class since Election Day, while Trump has both continued to insult him and even gone so far as to undermine him over important issues, including the Israel and Palestine conflict – one of the most convoluted and controversial topics when it comes to foreign affairs.
If Trump is wondering why President Obama is more admired than he is, perhaps he should take a look at his tweets.
He's not even president yet and he's already caused a diplomatic incident and called for a new nuclear arms race – and he accomplished all of this through Twitter.
The American people need a leader who can take criticism in stride and help calm the nation when it comes to tense issues, not one who spends large portions of his or her day making a mess of things by ranting on social media.
It's going to be a very long four years if the president-elect doesn't make significant changes to his behavior.