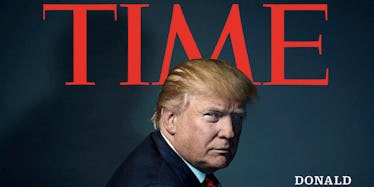 Everyone's Pissed Trump Is Time's Person Of The Year, But 1938's Pick Was Worse
REUTERS
Donald Trump is TIME's 2016 Person of the Year.
For 90 years, TIME has given this title to a person (or thing) who's had a massive influence over the course of the year.
This isn't really a matter of how likable the individual is, but rather, the overall impact he or she has had on global events.
You might love Trump, you might despise him, but you can't deny he's been a massive figure in 2016.
After all, he's going to be the next president of the United States.
TIME didn't completely dismiss Trump's controversial character, either. If you look at the cover of the "Person of the Year" issue, it refers to Trump as the "President of the Divided States of America."
Nancy Gibbs, TIME's managing editor, explained how the magazine came to this decision,
For reminding America that demagoguery feeds on despair and that truth is only as powerful as the trust in those who speak it, for empowering a hidden electorate by mainstreaming its furies and live-streaming its fears, and for framing tomorrow's political culture by demolishing yesterday's, Donald Trump is TIME's 2016 Person of the Year.
Trump, who loves being the center of attention, is thrilled about this.
On the "Today" show on Wednesday, December 7, the president-elect said,
It's a great honor, it means a lot, especially me growing up reading TIME magazine.
But not everyone is as happy as Trump.
Many took to Twitter to express their anger over the selection:
Still, anyone who's angry about this should recognize TIME doesn't use the title of "Person of the Year" as an endorsement, but a measure of impact.
For example, Adolf Hitler was TIME's Person of the Year in 1938.
Other infamous figures, such as Joseph Stalin and Vladimir Putin, have also received the title.
So, if you're angry about this, just remember that TIME has picked people who were arguably far worse.
Also, whether it was intentional or not, the cover of the magazine makes it look like Trump has devil horns. So, that might make you feel a little better.
Trump might be TIME's Person of the Year, but that does not mean the magazine believes him to be the best, or most admirable, person of 2016.