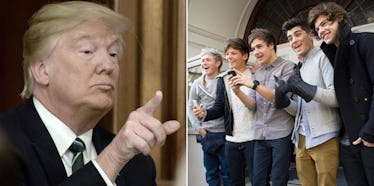 Trump Kicked One Direction Out Of His Hotel And His Reason Was So, So Petty
REX/ Shutterstock
Donald Trump has a knack for pissing the music industry off, and it's been proven over and over again that a majority of Hollywood doesn't like him.
The president has a history of tweeting about celebrities in an attempt to demean their talent and careers, but it looks like he took his dislike for One Direction to a whole new level.
Apparently, he once kicked the boy band out of his hotel in New York City.
As one can assume, his reasoning for kicking the group to the curb was petty -- but typical.
Liam Payne, former member of One Direction, talked to Rollacoaster Magazine about the bizarre experience in his latest interview, Metro reports.
He said Donald kicked the band out of their rooms while they were asleep because they didn't meet his daughter when they were asked to.
C'mon now, Donald. They need their beauty rest!
In Liam's upcoming issue, he said, "Trump actually kicked us out of his hotel once. You wouldn't believe it. It was about [meeting] his daughter."
The singer-songwriter claimed,
[Trump] phoned up our manager and we were asleep. He said 'well, wake them up' and I was like 'no' and then he wouldn't let us use the underground garage. Obviously in New York we can't really go outside. New York is ruthless for us. So he was like, 'OK, then I don't want you in my hotel.' So we had to leave.
Liam explained the boy band was left to fend for themselves in the streets of New York City after being kicked out of Trump's hotel... and all because they didn't want to wake up to meet his daughter.
It isn't clear which daughter Trump wanted the boy band to meet (could it have really been Tiffany?!), but if it was Ivanka -- I'm sure she doesn't care.
She's too busy swooning over a different celebrity.
Regardless, I doubt One Direction cared much for Donald and his campaign after being kicked out of his hotel.
Hm... wonder what Donald's going to tweet when he reads Liam's interview. I predict a Twitter-bashing session on One Direction in the near future.
Citations: Donald Trump once kicked One Direction out of his hotel because they wouldn't meet his daughter (Metro)