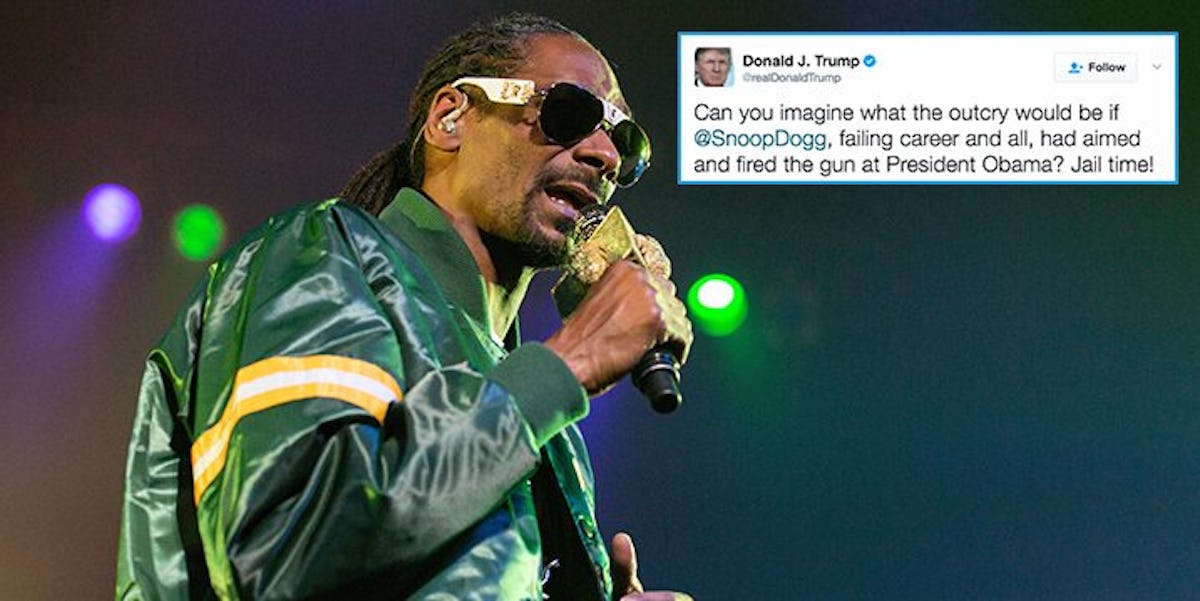 6 Thoughts Every Hip-Hop Fan Has About Trump's Beef with Snoop Dogg
REX/Shutterstock
President Donald Trump took to Twitter early this morning to slam rapper Snoop Dogg for his controversial new video that includes a scene of him shooting a clown dressed in a Trump costume with a toy gun.
The video is for Snoop's remix of the song "Lavender" by Canadian music group, BadBadNotGood. It's a politically charged record that addresses police brutality and government corruption.
Trump suggested Snoop Dogg deserves jail time, and described his career as a failure.
He wrote on Twitter,
Snoop Dogg might have gotten Trump all riled up, but he told Billboard his intentions were more about "making a song that was not controversial but real -- real to the voice of the people who don't have a voice."
He also shared,
The whole world is clownin' around, and [Jesse's] concept is so right on point with the art direction and the reality, because if you really look at some of these motherfuckers, they are clowns.
Snoop cited additional issues he has with the state of the US – including the Muslim ban, unfair weed incarcerations and murders by police – as his fuel for laying down the "Lavender" record.
While some people discuss whether or not Snoop Dogg went too far in shooting a fake Donald Trump clown, hip-hop heads are have a few solid thoughts:
1. That's Uncle Snoop Dogg to you, Trump.
Snoop Dogg is a hip-hop legend. He is the Doggfather.
He is widely respected in 'hoods and boardrooms all over the world. They love him in Africa like we love him in America. They welcome him in Asia like we would on basketball courts in Brooklyn.
There is no disrespecting Uncle Snoop in the hip-hop community. It is just not done.
Respect your elders, please.
2. Trump's "failing career" mention is an alternative fact, much like the Snoop Loops in the video.
WHAT FAILING CAREER, TRUMP?!!
His career is as old as I am (25 going on 26). Since his first official album Doggystyle, he has blazed radio stations and clubs regularly.
Today, he is the coach of a youth football team and co-host of a VH1 cooking show with Martha Stewart.
As radio host and TV personality Charlamagne tha God once expressed, Snoop Dogg is one of the world's most recognized rappers.
He isn't putting out consistent albums (although one called Never Left is on the way) because hip-hop legends don't have to do that.
They sit on hip-hop thrones, get grapes fed to them – or edibles, in this case? – and offer commentary on the state of our culture. They present awards and pass torches to newcomers when they deserve them. They get honored at award shows and have biopic scripts shopped around with their namesake.
But fail?
They. Absolutely. Do. Not.
3. Remember Snoop's roots, people.
As fun-loving and laid-back as the 6'4 rapper is, please remember he is one of the pioneers of the gangsta rap scene. Snoop is a student of NWA.... "Fuck Da Police" NWA. He came up with Tupac.
Don't let the weed and the lazy smile fool you: Snoop is the Triple-OG from the L-B-C.
Addressing politics with this level of rawness is the West Coast way.
4. Tupac is out there saying, "That's my DAWG!"
This had to be stated. Because it's true.
5. This moment isn't about whether or not he went too far.
Hip-hop was created to go too far, to reflect the realities and raw emotions of America's most disenfranchised groups.
And President Trump was not the only subject of the video, mind you.
The visuals also include a scene in which a clown cop pulls over a clown male driver and ultimately shoots him. Both men are white, and a young black male clown records it on his smartphone.
This scene was inspired by Philando Castile, who was shot and killed in his car by an officer, with his girlfriend and her daughter sitting in the front and back seat.
His lyrics ask about how society might feel if tables were turned and the majority of the population (white people) turned out to be the fatal police targets.
6. There are honestly worse things that could happen to you in a Snoop video, Trump. 
A common understanding: If Snoop won't share a blunt with you, then you reallyyyyy screwed up.