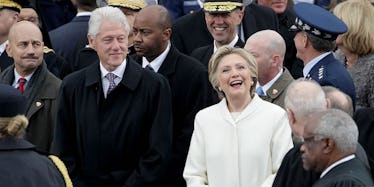 Tiffany Trump And The Clintons Went To The Same Wedding, So That's Awkward
Alex Wong/Getty Images
Weddings can be awkward affairs. They often force you to make small talk with people you barely know or lead you to run into people you might not be thrilled to see. But when Hillary and Bill Clinton attended the same wedding as Tiffany Trump on Sunday, Aug. 6, everyone seemed to have a good time.
The Clintons and Trump were both seen at the wedding of Sophie Lasry and Alexander Swieca at Cipriani Wall Street in New York City, according to Daily Mail. Lasry is the daughter of Marc Lasry, a billionaire hedge-fund manager who's been a major financial supporter of Clinton. As Daily Mail notes, Swieca is also the child of a billionaire, Henry Swieca.
The Clintons appeared to be in a cheerful mood at the wedding.
Having a Trump at the wedding didn't seem to faze the Clintons. Then again, of all the Trump siblings, Tiffany is definitely the least involved in politics. She didn't play a big role in her father's presidential campaign, doesn't use social media to express her personal views (unlike her father and brother), and, unlike Ivanka Trump, is not intricately involved in the Trump administration.
Long story short, the Clintons don't really have any valid reasons to have anything against the president's youngest daughter. Her father, of course, is a different story.
Even still, it's not clear if the Clintons and Trump interacted at all at the wedding, according to Vanity Fair. Whether or not that was intentional is anyone's guess.
As they arrived at the wedding, the Clintons were met by cheering fans.
In addition to the Clintons and Trump, a number of other celebrities attended the wedding, including Jennifer Lopez and Alex Rodriguez.
Prior to the wedding, on the night of Saturday, Aug. 5, the Clintons attended a special screening of Wonder Woman.
The Clintons caught a screening of the hit superhero Wonder Woman at The Alamo Drafthouse's New York City location. The theater posted an image of the Clintons after the movie.
The former president and presidential candidate were definitely very active in the Big Apple this weekend, and it's clear those who ran into them were pretty thrilled to see them out and about.