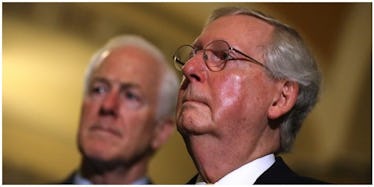 There's Still Time On The Health Care Vote: Here's How To Call Your Senators
Justin Sullivan/Getty Images
In a shocking move on Tuesday, July 25, the Senate voted 51-50 in favor of a motion to proceed with an attempt to repeal the Affordable Care Act (ACA), with Vice President Mike Pence casting the tie-breaking vote. All GOP senators except for Maine's Susan Collins and Alaska's Lisa Murkowski voted "aye." But the passage of the motion to proceed does not mean the ACA has been repealed yet. There is still time to call your senators and weigh in on the repeal effort.
The motion to proceed essentially gave the Senate the go-ahead to debate and draft a new ACA repeal bill. No replacement bill has been voted on yet, and due to the unusual manner in which they voted on the motion to proceed, there is no way of knowing what the final bill will look like, nor do we know how long it will take to craft the final bill.
The latest attempt to repeal could go a few different ways.
There are a few paths at this point, per The Wall Street Journal. One option is voting to repeal with a two-year delay to give the GOP time to draft a replacement. The GOP could also vote to do a "skinny" repeal, which would remove unpopular measures like ACA penalties for those who do not have health insurance and penalties for insurance companies who do not comply with ACA regulations. Finally, Senate Majority Leader Mitch McConnell, of Kentucky, is also expected to reintroduce a version of the Better Care Reconciliation Act (BCRA), which was the original Senate repeal bill.
If the BCRA is any indication, though, roughly 22 million people will lose their healthcare, Medicaid funding will be slashed by $772 billion, and vulnerable populations such as the elderly and children will be at heightened risk of losing coverage.
So if you're against the bill, now is the time to flood your Senators' offices with calls in support of the ACA and against the repeal. We've put together a handy guide to make it as easy and painless as possible.
Find out who your senator is.
The beauty of Google is that you could literally just type in, "Who are the senators for my state?" and the search service would point you in the right direction. You can also find out using a service like the Senate's searchable list of senators. Or if you want to find out who all of your representatives in Congress are, you can use Who Is My Representative? which searches based on zip code or, for more general results, state.
All representatives in both chambers of Congress have offices both in their home district and in D.C. They will list their phone and fax numbers and e-mail addresses on their homepages, and the services mentioned above also list their contact information.
Call, don't email.
Numerous former and current Hill staffers have outlined what to do, and one thing they all have in common: calling is much more effective than e-mailing.
Okay, now what do I do? What do I say? What happens if someone actually picks up?
This part can be difficult, especially for those with social anxiety, but it's a very simple process. When you call, you need to give the following information: your name, your contact information, the fact that you are a constituent (and sometimes your zip code), and why you're calling. If you have a personal story (for instance, if you are on Medicaid, or if you use Planned Parenthood), add that.
If someone actually picks up, ask to speak to the aide who deals with healthcare. Give them the same information as above. If they ask you if you need a response, it's best to say, "no." That will speed up the process.
Still unsure of what to say? Lots of organizations and advocacy groups -- including the Harry Potter Alliance -- have come up with helpful scripts for calling your senator. The Indivisible Guide has a script which you can find here, which is essentially a scenario in which a staffer has picked up the phone, and includes a back-and-forth in which the unnamed aide is arguing with a constituent.
Here's another script someone put together. Obviously substitute Senator Capito for whoever your senator is.
Or, if you really, really don't want to talk to a live human (which I understand), try Stance, which is an app for both iPhone and Android. Record your message using their app. They send messages to representatives, and if the voicemail box is full, they keep calling until it's available.
Know what you're talking about.
Your call will be that much more impactful if you use data to back up your talking points. And while you can express general support for the ACA by saying something like, "I support the ACA," specificity is always best.
Based on what we know about the BCRA, the impending Senate version of healthcare will most likely cut funding to Planned Parenthood, and will lead to thousands of births, at a hefty cost to taxpayers.
If you need more information on what a repeal might do, read about the potential effects of an ACA repeal on birth control, how the repeal could affect women of color, or what a repeal could mean for people with pre-existing conditions. You can also find out what insurers could define as pre-existing conditions, the difference between Medicare and Medicaid, and the importance of preventative care.
Call more than once.
You called and made your voice heard. Awesome. Now call again. This does not mean you should spam your senator by calling several times a day, but if you have something new to add, or if there is breaking news relevant to the healthcare vote, call again. This especially applies to people living in states with senators who are in favor of the repeal. You can also call and ask for updates on the senator's position.
Don't call someone who isn't your senator.
If both of your senators already agree with your stance, you probably  feel like your time would be better served by calling someone who has voted "yes" or expressed support for the repeal. Unless you're a constituent, don't do it. They don't tally calls from non-constituents, and it's a waste of your time -- and will make it that much more difficult for senators' actual constituents to get through to their representatives.
Instead, call your own senator. Sure, you already agree, but it's still important for these senators to tally how many people are calling them in support of the ACA.
Even if your senator has publicly said how they'll vote, call anyways.
As we saw with Senator Shelley Moore Capito of West Virginia, even if a senator publicly expresses doubt or says they'll vote one way, that can change at the drop of a hat. Capito was a "no" -- and even went so far as to say that she wouldn't vote "yes" without seeing an actual bill. She still voted yes on the motion to proceed, despite the lack of an actual bill.
So call, call, call. Call up until the moment your senator is casting their vote.
Support advocacy groups who are making themselves visible at the Capitol.
If you can't call, or if you want to do more, you can also donate to advocacy groups who are showing up to senators' offices and the Capitol.
Disability rights activists from the group ADAPT have been leading the anti-repeal charge. They've shown up to the Capitol. They've conducted sit-ins. They've been arrested and dragged from their wheelchairs. They have refused to be quiet.
You can also donate to other advocacy groups, like March of Dimes, which, despite Sen. McConnell's refusal to meet with them, is still fighting the repeal of the ACA.
Don't give up.
If you're against the repeal, it is downright heartbreaking to witness a small handful of people attempt to take healthcare away from millions of people. But there is time left to call. So keep dialing that phone, donating to advocacy groups, and making your voice heard.