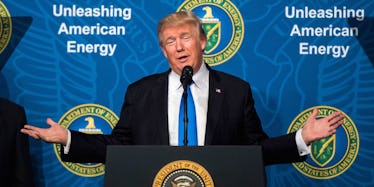 Trump Apparently Doesn't Know The Difference Between Two Vital Healthcare Programs
Kevin Dietsch-Pool/Getty Images
With a Senate vote on the Better Care Reconciliation Act pending, funding for Medicaid and other public insurance programs is on the chopping block -- which would leave some of the country's most vulnerable people without coverage.
Donald Trump has been a vocal supporter of repealing the Affordable Care Act (ACA, aka Obamacare) and replacing it with what many are calling Trumpcare. But some have questioned whether or not he understands the radical policy that bears his moniker.
Before taking a break this morning to engage in some vile misogyny on Twitter, Trump spent the better part of his time this week tweeting about his knowledge of healthcare.
And while it's par for the course for the president to tweet that criticisms of him are fake news or phony, his claim that he knows the subject well has some people -- including several in his own administration -- puzzled.
According to the Daily Beast, Trump doesn't understand the difference between Medicaid and Medicare. One official, who reportedly worked with Trump on healthcare policy, said that, as far as they know, the president does not understand healthcare.
"There would be times when he would describe what was clearly Medicare...but say Medicaid, and when we pointed that out, he would say, 'That's what I said, Medicare and Medicaid,'" another official told the Daily Beast.
And over the years, Trump has tweeted that he would not cut Medicaid, Medicare or Social Security:
But both the House and the Senate versions of the healthcare bill would eviscerate public insurance programs.
We reported last week that the Congressional Budget Office projected that 22 million would lose coverage by 2026 under the Senate version of the bill -- which would slash Medicaid by $772 billion over the next decade. About 20 percent of Americans rely on Medicaid, including over a third of the nation's children.
It's troubling, to say the very least, that the President of the United States does not seem to know what, exactly, the healthcare bill -- which he has repeatedly endorsed -- would do.
Medicare and Medicaid are both government-funded insurance programs, but they serve two different functions.
Certain individuals qualify for both Medicaid and Medicare. The main difference is that Medicare is mostly for people over 65 years old, while Medicaid is for low-income people of any age.
To break it down further:
Both programs are vital to the well-being of some of the country's most vulnerable populations. And it's important for everyone to know what their tax dollars pay for and what might be on the chopping block if this Senate bill passes -- especially a man who has a singularly powerful voice when it comes to public policy.