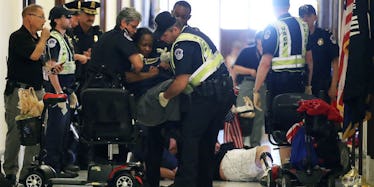 Disabled Protesters Angry Over GOP Health Care Bill Dragged Away In Capitol
Mark Wilson/Getty Images
Disabled and wheelchair-bound protesters were reportedly physically removed from outside of Senate Majority Leader Mitch McConnell's office on Thursday after the Senate version of the American Health Care Act (AHCA) was released.
Video shows Capitol police dragging the protesters away, and empty wheelchairs could be seen in the hall after the arrests.
The protest was organized by ADAPT, a non-profit for people with disabilities, according to NBC Washington.
Protesters chanted "no cuts to Medicaid" as they gathered outside of McConnell's office.
The Senate Republican health care bill would drastically cut Medicaid, the federal health care program for the poor.
This could have an especially negative impact on people with disabilities, as Medicaid covers 30 percent of all adults with disabilities.
One protester reportedly said, "The government wants to kill me," as she was removed from the area.
There was apparently blood on the floor as protesters were removed, although it's unclear how it got there.
Some witnesses have claimed one of the protesters who was removed was dropped.
The Congressional Budget Office (CBO) has yet to analyze and score the Senate bill.
But, it's not very different from a version of the bill passed in the House in May, which the CBO projected would lead 23 million people to lose health care over the course of the next decade.
In addition to dramatically cutting Medicaid, the Senate health care bill, which was controversially drafted by Republicans in secret, would provide massive tax cuts for the wealthy.
The bill would also end the Affordable Care Act's (Obamacare) mandate that most Americans have health insurance.
The House version of the bill is extraordinarily unpopular, and it's unclear whether the version released on Thursday will pass in the Senate.
Democrats have vowed to fight the bill, and Connecticut Senator Chris Murphy described it as "a monstrosity."