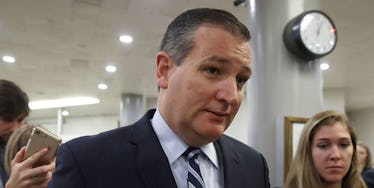 Even Ted Cruz Is Blasting Donald Trump's Refusal To Say "White Supremacy"
Mark Wilson/Getty Images
When it comes to supporting liberal causes and standing against Donald Trump, Ted Cruz and other conservative members of the Republican Party aren't exactly the first things that spring to mind. But it seems that there are lines even the most far-right of conservatives won't cross — and standing silent about white supremacy is one of them. After the terrible violence in Charlottesville, Virginia, on Saturday, Aug. 12, Ted Cruz and the GOP are condemning Trump's Charlottesville speech for not mentioning the words "white supremacy" or "terrorism."
On Saturday, Texas senator and former GOP presidential candidate Cruz spoke out against the violence in Charlottesville in a statement posted to Facebook, condemning white supremacy, Nazis, and the KKK specifically. He also did what Trump wouldn't, calling the car crash into a crowd "domestic terrorism."
The Nazis, the KKK, and white supremacists are repulsive and evil, and all of us have a moral obligation to speak out against the lies, bigotry, anti-Semitism, and hatred that they propagate. Having watched the horrifying video of the car deliberately crashing into a crowd of protesters, I urge the Department of Justice to immediately investigate and prosecute this grotesque act of domestic terrorism.
Dang, Ted, that's pretty forceful. I mean, it's also human decency, but it's kind of more criticism of Trump than I expected of you, honestly.
Cruz isn't the only one calling out Trump's failure to mention white supremacy.
South Carolina senator —and again, former 2016 presidential candidate — Lindsey Graham also called on Trump to explicitly condemn white supremacy, according to The Hill. "I would urge the president to dissuade these groups that he's their friend," Graham said.
And more — Cory Gardner of Colorado, Marco Rubio of Florida, and Chuck Grassley of Iowa all put Trump on blast. So did Jeff Flake of Arizona and Tim Scott of South Carolina.
Even short-lived former White House Communications Director Anthony Scaramucci, who steadfastly stood by the president for his whole 10-day tenure, had to call it out.
"I think he needed to be much harsher as it related to the white supremacists and the nature of that," The Mooch said on ABC News' This Week. "It's actually terrorism, whether it's domestic or international, with the moral authority of the presidency you have to call that stuff out."
But the best smackdown of all probably came from the Senate's second-highest ranking Republican, Orrin Hatch of Utah.
Who, you know, actually lost family fighting actual Nazis.
Starting with a march of torch-wielding white nationalists at the University of Virginia campus on Friday night and escalating through street fights at a "Unite the Right" rally on Saturday afternoon. The violence culminated in the moment a car barreled through a crowd of counter-protesters on Saturday afternoon, injuring more than a dozen and killing one 32-year old woman.
Shortly after the first death was confirmed, Trump took the podium at a press conference scheduled to discuss Veterans' Affairs legislation, and briefly addressed the violence.
But viewers were shocked and dismayed to hear him say that "many sides" were to blame and refuse to denounce white supremacy. He even ignored direct questions on whether he would disavow white supremacists, or whether he would call the car crash "terrorism," instead shooting reporters a dirty look and walking away.
Republican lawmakers have traditionally been slow to criticize the commander-in-chief, and have supported Trump through any number of outrageous policy moves and misinformed statements. Is white supremacy the straw that breaks the camel's back?
Well, it's getting everyone as far as Twitter, at least.