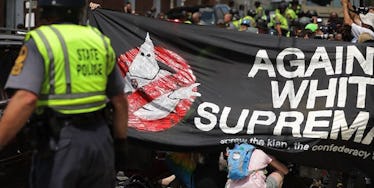 This One Tweet Sums Up The Big Problem With Trump's Speech On Charlottesville
Chip Somodevilla/Getty Images
By the afternoon on Aug. 12, after violence erupted at an alt-right rally in Charlottesville, Virginia, it seemed that the worst was over. The rally had been dispersed by the police, and things seemed to be settling down — when a car drove into a crowd of protesters, sending people flying, killing at least one person and injuring many more. And now, people are calling the Charlottesville attack terrorism, and wondering why President Donald Trump hasn't denounced it.
The incident happened shortly before 2p.m. ET, a few hours after police dispersed the "Unite the Right" white nationalist rally in Emancipation Park. As a crowd of counter-protesters marched, chanting "our streets," a gray Dodge Challenger barreled through them, sending bodies tumbling and slamming into the end of a car stuck among the protesters. As people screamed, the driver threw the car into reverse and sped away.
The incident was caught on video from several angles, at least one of which shows that the driver likely had room to stop. Charlottesville Chief of Police Al Thomas said in a press conference on Saturday evening that authorities had the driver of the car in custody, and the case was being treated as a criminal homicide.
The incident is troublingly familiar.
Over the course of the past year, a number of high-profile attacks have used a car ramming method. A sampling: on July 14, 2016 — France's national holiday — a man drove a truck through a crowd gathered to watch the Bastille Day fireworks in the coastal town of Nice, killing 86 people. And in early June, a group of men drove a van into pedestrians on London Bridge as the precursor for an assault with knives, killing eight. Both attacks were quickly condemned as terrorism.
So, many were wondering…. where's the condemnation now?
Well, this might sum it up.
The tweet, from MSNBC anchor Ali Velshi, has been retweeted more than 8,000 times. And he's got a point.
Trump hasn't been shy about tweeting about terrorism, as The Washington Post has curated.
However,  he's frequently mute on the subject of what would otherwise be called terrorist attacks when they're perpetrated by white people, or against Muslims.
He didn't comment on a February shooting at a mosque in Quebec which left six people dead, nor did he speak out about the Aug. 5 bombing at a mosque in Minnesota (thankfully, no one was hurt).
And in February, Reuters reported that the Trump administration was planning on revamping a U.S. counter-extremism program to focus solely on Islam, and not white supremacist groups, in spite of the fact that the organization's own report found that right-wing groups were responsible for 73 percent of extremist attacks that resulted in deaths over the past fifteen years.
When it came to the attacks in Europe, he didn't hesitate to say, "terror."
It doesn't seem to be a matter of waiting for due process, either. Trump quickly condemned the attacks in France and the UK.
But when it came to Charlottesville, Trump couldn't even bring himself to say the words "white supremacy" or "white nationalist" in his remarks.
Instead, he offered a weak-sauce line about there being "many sides" to the violence. (It didn't go over well.) Nor did he directly address the apparent attack, though it had just been confirmed that one person had died.
In fact, when directly asked about whether he would denounce the attacks as white supremacy, or call the apparent car attack "terrorism," he threw reporters an angry look and left the room.
Velshi wasn't the only one to notice, either.
Others chimed in with the same thought.
But no. I guess we'll have to wait to look at the "many sides" of terrorism, and give it the benefit of the doubt.