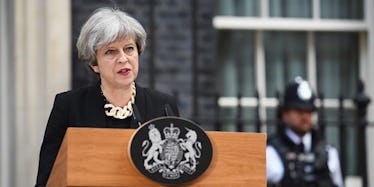 Journalist Calls Out Theresa May's Makeup And Twitter Isn't Having It
Leon Neal / Staff / Getty Images
There has been a lot going on in the UK over the past few weeks.
Unfortunately, the country witnessed its third terror attack within three months when ISIS members crashed a van into pedestrians on London Bridge and went on a stabbing rampage in Borough Market.
As a result, Prime Minister Theresa May not only had to focus on counterterrorism issues, but her country's looming election on June 8.
It was definitely an overwhelming time, especially for the prime minister. This general election didn't end the way she had anticipated, and ultimately, her Conservative Party lost its majority in Parliament. 
Since the election didn't pan out the way she thought it would — by drumming up support for Brexit — citizens are wondering what's in store next. However, BBC journalist Nick Robinson took another approach to the coverage by focusing on May's makeup, according to Glamour. He had suggested that she was wearing "thick makeup" in order to cover up the tears from the election loss.
People were definitely quick to respond on Twitter to the journalist's comments about the prime minister's appearance.
Some thought his commentary was "unnecessary," even "disgraceful."
People were not in the mood to hear sexist comments.
These comments disregard May's leadership and focus on something that seems rather irrelevant in the grand scheme of things, but she is far from the only woman in politics who has faced something like this.
During the U.S. election, President Donald Trump was quoted saying he was "unimpressed" with Hillary Clinton's backside when she had walked in front of him during a debate.
Alejandra Campoverdi, who is running for Congress in California's 34th District race, also is facing sexist stereotypes for having taken a modeling job for Maxim years ago, despite what she has accomplished politically. She had said in a letter to Cosmopolitan,
Women shouldn't need to choose between being intelligent and being feminine. Female sexuality and intelligence are not inversely related.
Even Melania Trump has come under fire for her modeling past.
Robinson took to Twitter to apologize for his comment and defend it at the same time.
Whether or not you're a fan of May's leadership — or any other females' roles in politics — certainly there are bigger issues at hand than makeup.