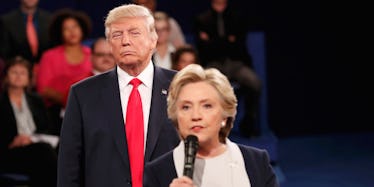 Trump Checked Out Hillary's Ass During The Debate: 'I Wasn't Impressed'
REUTERS
At a rally in North Carolina on Friday, Republican presidential nominee Donald Trump body-shamed Hillary Clinton and essentially admitted to checking out her backside.
Referencing the town hall presidential debate on Sunday night, which had the candidates on their feet much of the time, Trump said,
She walks in front of me, you know? And when she walked in front of me, believe me, I wasn't impressed.
You can hear the crowd cheering after Trump said this in a video of his remarks.
Yep, Hillary Clinton is the first female presidential nominee for a major political party in US history, and her opponent just insulted her appearance, carrying on the long tradition of men scrutinizing powerful women over how they look.
During the debate, which occurred roughly 48 hours after a video revealed the real estate mogul bragging about sexual assault, Trump often lurked behind Clinton.
On "The Ellen DeGeneres Show" Friday, Clinton told DeGeneres that Trump was "literally" stalking her during the debate.
Clearly very disturbed by Trump's demeanor, Clinton said,
He was really trying to dominate and then literally stalk me around the stage. It was so odd, because I'd go to talk to somebody and I would just feel this presence behind me, and you know, I thought, 'Whoa this is really weird.'
Well, it now seems Trump was also gauging Clinton's appearance while awkwardly standing behind her.
This is hardly the first time Trump has exhibited such behavior toward his political opponents.
During the primary season, while Carly Fiorina was still a candidate, Trump said,
Look at that face! Would anyone vote for that? Can you imagine that, the face of our next president?!
With that said, Trump has a well-documented history of misogyny that extends far beyond his presidential campaign.
But his remarks toward Clinton feel particularly low considering multiple women have accused him of assault over the course of the past week.
Perhaps we shouldn't be surprised, however, given he's also the type of guy who responds to such allegations by arguing his accusers aren't attractive enough to be assaulted.
Trump has vehemently denied the allegations against him and on Thursday referred to his accusers as "horrible liars."
It's becoming increasingly difficult to keep track of all of the stories surrounding Trump and his behavior toward women, among other issues.
We're getting to a point where more and more people seem to be asking, "How is this guy a presidential candidate, and why haven't his supporters abandoned him?"
On Thursday, Michelle Obama delivered a powerful and emotional speech about the recent news surrounding Trump, in which she stated, "This is not normal."
These four simple words seem to define how many have felt throughout this strange and often disturbing election cycle.