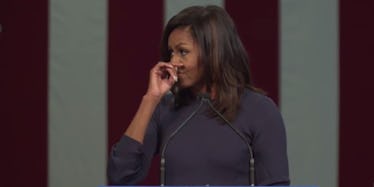 Michelle Obama Tears Up Speaking On Trump 'Pussy' Convo: 'This Is Not Normal'
YouTube
First Lady Michelle Obama sounded choked up as she spoke about Donald Trump and the weight of sexual assault on women during a speech in New Hampshire on Thursday afternoon.
Obama explained she can't stop thinking about the language Trump has used, saying it "has shaken me to my core in a way that I couldn't have predicted."
It has shaken me to my core in a way that I couldn't have predicted.
She has been campaigning for Democratic nominee Hillary Clinton. Her speech on Thursday came in the midst of growing allegations of sexual assault made against the Republican nominee.
The First Lady got emotional as she spoke about the toll all this news about Trump is having on her -- and many women who are also listening.
Obama discussed the "Access Hollywood" footage that was released last Friday. That video shows Trump saying he kisses women without waiting for their consent and, as a celebrity, he can do whatever he wants, including "grab [women] by the pussy."
FLOTUS called what Trump said "sexually predatory behavior." She would not repeat his words, saying it's "painful" for women, parents and citizens. She said,
I can't believe that I'm saying that a candidate for president of the United States has bragged about sexually assaulting women.
She wished she could pretend this wasn't happening, but it would be "dishonest" and "disingenuous" if she didn't address it. The language affected her personally -- as it did many women.
Obama said,
The truth is, it hurts. It hurts. It's like that sick, sinking feeling you get when you're walking down the street, minding your own business, and some guy yells out vulgar words about your body. Or when you see that guy at work that stands just a little too close, stares a little too long, and makes you feel uncomfortable in your own skin. It's that feeling of terror and violation that too many women have felt when someone has grabbed them, or forced himself on them, and they've said no, but he didn't listen.
The First Lady said Trump's language sounds like old, blatant sexism, like what we thought we had gotten rid of years ago, yet we're still hearing all of these sexist, menacing, controlling things today, even on the campaign trail.
Her voice choked up as she stated,
We are drowning in it. And all of us are doing what women have always done. We're trying to keep our heads above water. Just trying to get through it. Trying to pretend like this doesn't really bother us.
Obama said perhaps women are trying to hide how much this behavior bothers us because "we think that admitting how much it hurts makes us, as women, look weak."
Maybe we're afraid to be that vulnerable. Maybe we've grown accustomed to swallowing these emotions.
She explained we've seen people not take women's words seriously, so we've learned to stay quiet.
But we have to pay attention to women's outrage and not accept predatory behavior as "normal."
This is not normal. This is not politics as usual. This is disgraceful. It is intolerable.
The First Lady went on to say Trump's words set a bad example for our children -- both girls and boys.
The men in her life do not speak how Trump speaks, she explained. To dismiss it as locker room talk, as Trump did in his statement, is an "insult to decent men everywhere."
Men who are truly role models don't need to put down women to make themselves feel powerful.
The election is on November 8. The Obamas have fewer than 100 days left in the White House.
Elite Daily and 50 other media organizations partnered with Rock The Vote to register 100,000 women to vote. You can register right here (and men can use it too) :