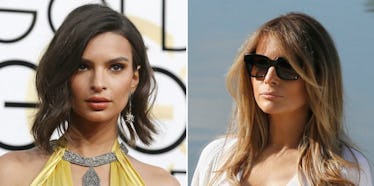 Emily Ratajkowski Defends Melania Trump Over Hooker Accusations In Twitter Rant
REUTERS
Supermodel Emily Ratajkowski took to Twitter to defend First Lady Melania Trump from sexist comments.
The model and actress said a New York Times reporter sitting next to her at a New York Fashion Week event said, "Melania is a hooker."
Ratajkowski went on to say this bashing of Trump is "slut shaming."
She tweeted she needed to call out the Times reporter's comment for being "slut shaming."
Ratajkowski added she doesn't "care about her nudes or sexual history and no one should."
I'd note this is kind of a roundabout way of defending the First Lady -- sure, I guess Melania's nude pictures are relevant to this conversation, but she could have also just said, "Hey! Don't call women hookers because they're pretty and you don't like them, assholes," without bringing them up, but whatever.
Ratajkowski ended her tweets by calling these kind of insults "sexist bullshit."
This is true, I would definitely call that an instance of "sexist bullshit."
Listen. OK, there are a lot of reasons why you might want to criticize Melania Trump.
And she's an autonomous adult in politics, so there is room to criticize her.
But calling her a "hooker" is just, to quote Ratajkowski, sexist bullshit.
Criticize her complicity in her husband's discriminatory policies -- and the hypocritical nature of that, coming from an immigrant herself.
Criticize her costing taxpayers money by staying in New York -- and making trips to Palm Beach on the weekends.
Criticize her noted belief that being a First Lady is pretty much just good for the monetary profit you can make.
Saying "she's a prostitute," however, is both unfounded and just plain old sexist.
(And just because Donald Trump says sexist things doesn't meant it's cool for you to. All of us women would generally appreciate if you recognized the hypocrisy in believing otherwise.)
(Oh and relatedly, making fun of her accent is equally messed up. You can't defend immigrants, but then mock Melania's accent. BE BETTER.)
Trump, for her part, tweeted a thank you from the @FLOTUS account.
She tweeted,
Applause to all women around the world who speak up, stand up and support other women!
The First Lady tagged Ratajkowski and ended the tweet with #PowerOfTheFirstLady.
The New York Times apologized for its reporter's remarks.
The paper said in a statement,
At a party last night, a Times reporter who does not cover Washington or politics, referred to an unfounded rumor regarding Melania Trump. The comment was not intended to be public, but it was nonetheless completely inappropriate and should not have occurred. Editors have talked to the reporter in question about the lapse.
The Times is seeing some skyrocketing subscription rates, despite the president's repeated claims that they are "failing."
But calling a woman a hooker? Sad!
Citations: Emily Ratajkowski defends Melania Trump against "hooker" comment (Sydney Morning Herald)