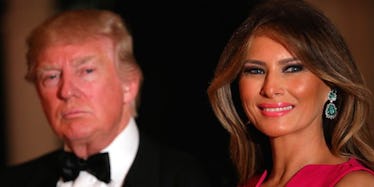 Melania Thinks First Lady Is 'Once-In-A-Lifetime' Chance To Make 'Millions'
REUTERS
Melania Trump revealed her opinion about the position of first lady in a lawsuit filed on Monday, February 6.
According to the lawsuit, Melania believes being first lady is an opportunity to make a ton of money, ThinkProgress reported.
The article says,
[Trump] had the unique, once-in-a-lifetime opportunity, as an extremely famous and well-known person, as well as a former professional model and brand spokesperson, and successful businesswoman, to launch a broad-based commercial brand in multiple product categories, each of which could have garnered multi-million dollar business relationships for a multi-year term during which [Trump] is one of the most photographed woman in the world.
In other words, Melania sees the position and duties of first lady as a really good way to make bank because you're in the public's face all the time.
And how would she make this money? The lawsuit says through products including "apparel, accessories, shoes, jewelry, cosmetics, hair care, skin care and fragrance."
The defamation lawsuit is filed against the Daily Mail for an article detailing a Slovenian magazine's unconfirmed account that Trump was an escort. Though the Daily Mail issued a retraction on that story, Melania believes her ability to profit was hurt by this article.
This is the third defamation lawsuit Trump has filed against the Daily Mail for the story.
The lawsuit was filed by Charles Harder, who gained fame by killing Gawker on behalf of Hulk Hogan on behalf of Peter Thiel, a young blood enthusiast who doesn't know how to forgive and forget.
The lawsuit says Melania Trump is not able to profit as much from her role as first lady because of the article.
Previous first ladies have taken on duties such as supporting healthy living and pushing for healthcare bills.
But Melania is still not living in the White House.
Citations: Melania Trump reveals plan to leverage presidency to ink 'multi-million dollar' endorsement deals (ThinkProgress), Melania sues Mail Online a third time for claiming she was an escort (New York Post), Peter Thiel Is Interested in Harvesting the Blood of the Young (Gawker)