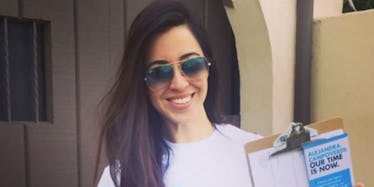 House Candidate Speaks Out On Her Maxim Pics And Being 'Reduced To A Stereotype'
Instagram
Alejandra Campoverdi is running for Congress in the heated Los Angeles 34th District race.
She also once posed for Maxim and wants you to know those two things are not mutually exclusive.
Campoverdi was raised by a single mother and received her master's in public policy from Harvard's Kennedy School of Government.
She worked a series of jobs when she was younger to help cover various costs. Those jobs included working as a waitress, a live mannequin on Venice Beach, a retail employee and a model.
One of those modeling gigs, around 15 years ago, happened to be for Maxim.
After she got her degree from Harvard, Campoverdi moved to Chicago to work on the 2008 presidential campaign for Barack Obama.
When he was elected, she was appointed to work in the White House in the chief of staff's office, and later, as the first deputy director of Hispanic media.
But when Campoverdi was appointed, someone dug into her past and found the old Maxim photos. She wrote,
Right behind the photos followed the hotter, more humiliating blaze of unveiled snark that pointedly implied that I didn't deserve what I'd accomplished and had been overambitious for even trying in the first place.
She said she was labeled as the "White House Maxim Model" and "reduced to a stereotype."
Campoverdi said she cried for a week before working even harder to prove her worth in the White House.
But since then, her understanding of sexism has grown. She wrote,
Men get to be broad and complicated and contradictory. Yet as women, we aren't granted the whole person. [...] Women shouldn't need to choose between being intelligent and being feminine. Female sexuality and intelligence are not inversely related.
Campoverdi wrote she's "proud of the mosaic of experiences that make me who I am."
Although she's grown personally, however, she wants to help younger women who may need to learn the lessons she did about overcoming sexism.
She wrote,
It's urgent we send a message to these women that they will not be kept out of the political process by the mere fact of being human, of being their wonderfully nuanced, complicated, sometimes contradictory selves. From this generation forward, every woman will have grown up in the digital age where, unless she sat in a turtleneck at home for all her teens, she will have pictures readily available online that can be used to shame her.
Campoverdi encourages women to not be scared out of running for office by their past and by who they are. She said we need to learn to accept and celebrate "whole, multidimensional women."
It's a good lesson women and men need to hear regularly.
Citations: I Posed for Maxim and I'm Running for Congress. It Shouldn't Be That Shocking. (Cosmopolitan)