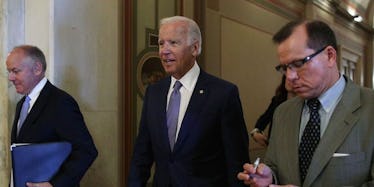 Joe Biden Had The Sweetest Message For Julia Louis-Dreyfus On Her Cancer Diagnosis
Alex Wong / Getty Images
Former Vice President Joe Biden has posted a lot of tweets over the years that tug at the heartstrings, and did so again on Thursday. On Thursday, Sept. 28, Biden tweeted support to Julia Louis-Dreyfus after she had announced on the social media platform hours earlier that Louis-Dreyfus was diagnosed with breast cancer. Biden's message came at 6:30 p.m. ET.
Louis-Dreyfus, perhaps most known for her role as Elaine on Seinfeld, currently stars as Vice President Selina Meyer in the HBO political comedy Veep. In an unexpected announcement, she posted a tweet on Thursday with a message reading,
1 n 8 women get breast cancer. Today, I'm the one. The good news is that I have the most glorious group of supportive and caring family and friends, and fantastic insurance through my union. The bad news is that not all women are so lucky, so let's fight all cancers and make universal healthcare a reality.
Following JLD's open-hearted post, which came just after she made history at the Emmys on Sept. 17, the former actual "veep" showed his solidarity. Biden shared a still from the 2014 White House Correspondent's Dinner opening video, which he and Dreyfus starred in, along with his well wishes.
For both Dreyfus and Biden, cancer is an issue that hits close to home.
Biden has been one of the most ardent political champions for health care and, in particular, cancer.
The issue has personal importance for him; in May 2015, Biden's son Beau passed away after battling brain cancer.
While in office serving as VP alongside former President Barack Obama, one of his key policy hallmarks was the Cancer Moonshot, which included a task force and panel. The initiative began in January 2016, and as a parting gift, Biden pushed to get a $6.3 billion medical research funding bill passed, $1.8 billion of which would go to the cancer moonshot. According to Politico, while Biden presided over the procedural vote in the Senate, it was announced that the cancer program would be named in honor of Beau.
Since leaving office in January of this year, Biden has proved it was far more than a political platform by staying heavily involved in the cause. The Biden Cancer Initiative actively works to push for progress on both the prevention and treatment sides.
After it was announced in July that Senator John McCain (R-AZ) has brain cancer, Biden also shared his message of support on Twitter.
And through the various iterations of the GOP's health care bills over the summer, Biden has been vocal about opposing them, not just for their impacts on those fighting cancer, but for all patients and their families.
In an op-ed for the Washington Post in July, Biden spoke out against the GOP's health care overhaul bill, saying,
If you're young and healthy, maybe this bill means that you'd pay lower premiums. But the thing about life is that if you're lucky, eventually you grow old, and, in the meantime, you don't know what will happen next. In the blink of an eye, or in one phone call from a doctor, your outlook may change. And if, God forbid, you find yourself in that position one day, I hope we still have the ACA in place so you can have the peace of mind that comes with knowing that no matter what, you can still get affordable care.
So it tugged at the heartstrings to see Biden on Thursday once again stand by someone battling cancer.
Biden wasn't the only one sending public messages of wellwishing to JLD.
Timothy Simons, who plays Jonah Ryan on Veep, sent a heartfelt greeting, as did
Another Veep cast member Diedrich Bader, who we all know and love/hate as Bill Ericsson, showed his support as well.
And because the universe is a crazy place, McCain on Friday morning shared his own message with the actress.
In response to all the love, JLD has been sharing it back in tweets of her own.
While it's not the first time JLD has gotten political -- even off-screen -- her Sept. 28 post has launched her into a health care arena that is steadily including more and more celebrities. The late night host Jimmy Kimmel has repeatedly used his airtime and his off-air influence to speak out in support of universal health care. And Kimmel's words haven't been for nothing; the "Kimmel test" has drawn the focus of GOP senators and beyond.
Though health care can be a depressing topic, with people like Kimmel, Dreyfus and Biden in the ring, we can't help but be encouraged.