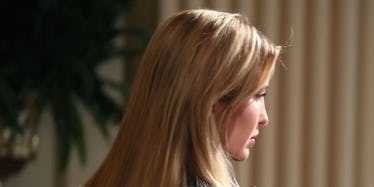 Ivanka Trump's Reading List Proves She Wants To Be The Real First Lady
Mark Wilson / Getty Images
The president's daughter seems to be enjoying a not-so-light read this summer. According to a report by Politico, Ivanka Trump has been getting inspiration from an iconic -- and telling -- source: The biography of former First Lady Eleanor Roosevelt.
The Politico article, from reporters Annie Karni and Eliana Johnson, says that Trump is reading Roosevelt's biography to gain "guidance and inspiration."  So, what does it mean that she's chosen this particular source for inspiration at a time like this?
Elite Daily reached out to the White House for comment from Ivanka Trump but did not hear back at time of publication.
It might be just a good summer read. Roosevelt, after all, was a fascinating woman whose contributions to the country's history during the Progressive Era run deep.
But perhaps most relevant to Trump's predicament is Roosevelt's front-and-center role in politics She had huge sway in not just her husband's administration, but in Woodrow Wilson's. According to the National First Ladies' Library, Roosevelt, a cabinet spouse, was already making change. When tasked with assessing the conditions of mental health facilities,
Eleanor Roosevelt successfully implored the Wilson Administration's Interior Secretary to create a commission that conducted an investigation with the intention of improving the facility's services.
Roosevelt was (and continues to be) a stand-out among presidential spouses for how much power and influence she had while First Lady and for advocating social and human rights issues.
The Trump daughter has been seen as the lone progressive in a vortex of conservatives, the one (possibly) moderating force for the Trump presidency. But as the weeks tick by, more and more decisions go through that run counter to her own stated beliefs, including women's and LGBTQ+ rights, and most recently, the transgender military ban.
Politico reports that those close to Ivanka say she's often frustrated by the limits of what she can do in the White House, and that she "desperately wants to lower expectations of what she can achieve" in her father's administration. In the past, she has expressed both the desire to advance certain agendas, but also to "stay out of politics."
What kind of inspiration, exactly, is Trump looking for? After the week the administration has had, we can only imagine.