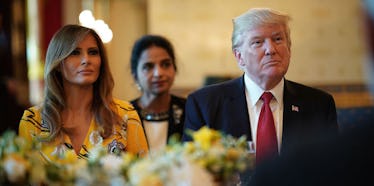 Trump's Apparently Cutting Obama's Council For Women And Girls, Because Of Course
Win McNamee/Getty Images
While Trump has been focused on pushing his campaign promises forward in the legislature, it appears that women aren't making the cut in his priorities.
The White House Council on Women and Girls may be dismantled, Politico reports. Created in 2009 under President Barack Obama, the council was headed by senior administration staffers Tina Tchen and Valerie Jarrett with the goal to serve as watchdogs in agencies to ensure that women weren't getting shortchanged in policies.
The council "takes into account the needs of women and girls in the policies they draft, the programs they create, the legislation they support," the website's statement reads.
On the topic of the council, White House spokesperson Hope Hicks was quoted in Politico saying,
We want the input of the various agencies to understand the assets they have so that we make this office additive, not redundant.
Neither Tchen nor Jarrett have tweeted about the news. The accounts of The White House, President Trump, his daughter Ivanka and wife Melania have all been silent on the issue as well.
Meanwhile, others on Twitter have been responding to the news:
The council's website does appear to have been growing cobwebs for the last six months. The last post was in December 2016 regarding the companies that had signed on to the White House Equal Pay Pledge, an Obama-era needle move in the direction of balancing women's salaries.
On the topic of women's rights, Ivanka Trump set herself up as a possible torch-bearer for feminism in the administration. She's been involved in women's empowerment summits and has spoken out on women's issues, and even put out a book recently called Women Who Work.
Now, in light of the news on the council's potential shut-down, people are calling on the president's daughter to respond. On this issue and others, she's been criticized for being all talk and no walk.
While the news broke of the council's potential dismantling, Ivanka has been busy posting about #EndTrafficking. On June 28, she retweeted Melinda Gates; a post that now seems unfortunate timing given the news' implications for women's advancement:
Whether and when the council actually gets shut down remains to be seen. In the meantime, other groups like the National Organization for Women (NOW) are taking up the mantle outside the administration to continue the fight for women's rights.