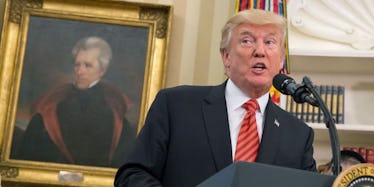 James Corden, Uzo Aduba, & More Celebrities React To Trump Trans Military Ban
Chris Kleponis-Pool/Getty Images
After this morning's bombshell announcement that transgender Americans will no longer be allowed to serve in the military, tons of celebrities are reacting to Trump's trans military ban on Twitter. My guess is Trump is going to be blocking a lot of these people because, you know, that's how presidents handle things.
Celebrities like James Corden, George Takei, Uzo Aduba, Ben Platt, Andy Cohen, Seth Rogen, and more-famous senators like Kamala Harris and Chuck Schumer are speaking out against the ban on Twitter.
Trump made the announcement on Twitter (because that's also how presidents handle things) around 9 a.m. ET on Wednesday, July 26.
In a series of three tweets, he said,
After consultation with my Generals and military experts, please be advised that the United States Government will not accept or allow… ….Transgender individuals to serve in any capacity in the U.S. Military. Our military must be focused on decisive and overwhelming….. ….victory and cannot be burdened with the tremendous medical costs and disruption that transgender in the military would entail. Thank you
Celebrities are reacting by expressing their disgust toward this new policy, and they're not letting Ivanka Trump — who claims to support LGBT rights and has her father's ear — off the hook, either.
Samantha Bee and the Full Frontal team pretty much hit the nail on the head here:
People are also calling out Caitlyn Jenner for voting for Trump. As a transgender citizen, people felt it was backwards for her to support a candidate who didn't believe in trans rights.
Senator and former vice presidential candidate Tim Kaine called Trump out for making this decision early when military leaders reportedly wanted more time to think about this decision.
Kaine said,
I disagree with this decision. If you are qualified to serve, you shouldn't be banned from the military. Also — did the President really consult military leaders on this? Four Star General told SASC [the Senate Armed Services Committee] a week ago they wanted time to review this
Oh, sweet, noble Tim Kaine. Trump doesn't think things through, remember? He's got too much winning to do.
This policy is discriminatory, immoral, and completely baseless in its claims that transgender soldiers are a burden to the American military. According to the ACLU, thousands of people serving in the military are transgender. In the ACLU's statement responding to the trans military ban, it said,
This is an outrageous and desperate action. The thousands of transgender service members serving on the front lines for this country deserve better than a commander-in-chief who rejects their basic humanity. Let us be clear. This has been studied extensively, and the consensus is clear: There are no cost or military readiness drawbacks associated with allowing trans people to fight for their country. The president is trying to score cheap political points on the backs of military personnel who have put their lives on the line for their country. There is no basis for turning trans people away from our military and the ACLU is examining all of our options on how to fight this. For any trans service member affected by today's announcement: Please get in touch with us, because we want to hear from you.
Yup.