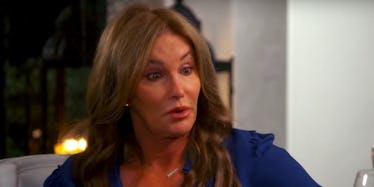 Caitlyn Jenner Receives Backlash For Supporting Trump After Trans Military Ban
E!
Well, what do you know? It's another horrible, no good day to be in America. Today, Caitlyn Jenner is being called out on Twitter after Trump's trans military ban was announced this morning. Trump posted a series of tweets explaining that transgender people will no longer be allowed into the United States military service. Yup, just another time he's using the popular social media source as a means for official, presidential business.
UPDATE: Jenner responded to the news with a tweet early in the afternoon on Wednesday, July 24. She wrote,
There are 15,000 patriotic transgender Americans in the US military fighting for all of us. What happened to your promise to fight for them?
EARLIER: All eyes are on Jenner as she has been an open supporter of Trump in the past, and is also a spokesperson and role model for the transgender community. I know, it's really confusing.
Elite Daily reached out to Caitlyn Jenner's team for comment on Trump's trans military ban as well as the backlash she is receiving, but did not hear back by the time of publication.
Trump tweeted the following messages.
The outrageous ban should come as a massive shock to the American people, but somehow waking up to a new layer of inhumanity has become the new norm.
So Caitlyn, what do you have to say?
The former Olympic athlete and reality TV star told USA Today in a previous interview,
I would try to enlighten President Trump or anyone about transgender rights that these are real issues because these are real people suffering. The President and so many people out there haven't taken the time to meet or get to know a transgender person. They don't know the community. It's affecting so many people beneath everything.
Twitter is now holding Jenner accountable.
This, of course, comes after empty, broken and offensive flat-out lies the president told the LGBT community. At the Republican National Convention, he even promised to be an ally for trans and gay individuals.
In June of 2016, he had tweeted the following message in support of LGBTQ rights, or rather, the following message against Hillary Clinton.
For now, the LGBTQ community is waiting for Jenner's response to the horrific news.