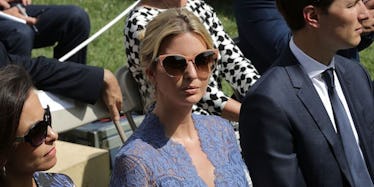 Ivanka Trump Tweeted Something Super Trivial After Her Dad's Nuclear Threats
Chip Somodevilla/Getty Images
After President Donald Trump responded to reports of North Korea's advancing nuclear capabilities with a vitriolic comment about American response, people started freaking out. But while some worried about nuclear war, it looked like the first daughter was thinking about something different. Ivanka's tweet after Trump's North Korea threats is all about small businesses, not the potential crisis.
On the afternoon of Aug. 9, Ivanka Trump tweeted out a link to a Forbes article called, "7 Ways To Make Your Business Stand Out In A Crowd Of Competitors." It was her first tweet since the president's offhand threats to North Korea, but she made no mention of her father's escalating rhetoric. Instead, she offered the caption, "Check out '7 Ways to Make Your Business Stand Out In A Crowd of Competitors' to help your #smallbusiness succeed!"
So, uh, that's cool. I'm sure the small business owners will appreciate the consideration, provided the world doesn't end in "fire and fury."
On Aug. 8, speaking from his Bedminster golf club in New Jersey, President Trump said that the U.S. would respond to North Korean threats with "fire and fury like the world has never seen." Many took the off-the-cuff remark to be a reference to nuclear weapons. And shortly after, reports came out that North Korea had threatened Guam, a U.S. territory in the Pacific. So, things are heating up.
But you couldn't tell it by Trump's Twitter account.
Some of the responses were pretty critical.
It's not the first time that Ivanka's overlooked an unpleasant news story on social media.
Last month, while everyone was freaking out about the health care "skinny bill" vote, she chose instead to tweet about American manufacturing, for reasons that left people perplexed.
Twitter called her out then, too, both for ignoring the health care vote and overlooking her father's tweeted transgender military ban, which had come out shortly before.
Maybe, if war actually happens, she'll tweet about it then? Let's hope we don't have to find out.